Business Investment News
News from across the Broxtowe, Nottinghamshire and wider East Midlands in relation to Business Investment.

Nottinghamshire Community Foundation organise Dragons Den style event
Calling all budding entrepreneurs, Nottinghamshire Community Foundation have organised another Dragons Den style event hosted by Nottingham Business School. If you have a business idea and want to apply for a grant to help you on the road to success please apply to the den.
On Tuesday 6 February 2018 applicants will be given the opportunity to pitch to a panel of successful local business leaders who will decide on which businesses will receive a grant of up to £3,000.
Nina Dauban, Chief Executive of Nottinghamshire Community Foundation said "We are pleased to announce this our 11thden and delighted it is being hosting by Nottingham Business School. Previous Dens have shown us that applicants get so much more than the grant. Past winners have been given free premises, new websites and IT support, new machinery, free marketing and significant investment from the Dragons".
The Dragons Panel will include
Melanie Currie, Deputy Dean Nottingham Business School
David Marlow, CEO Nottingham Building Society
Beverley Parr, Owner of B & J Parr Ltd
Kevin Shakesheff, Pro Vice Chancellor Nottingham University
To be considered for a grant, applicants need to be a resident of Nottingham city or county, be able to submit a realistic business plan and have a great enterprise idea.
All applications must be submitted by 9.30am on Monday 15th January 2018.
Download a business plan template here  and a basic forecast template here or contact enquiries@nottscf.org.uk for copies. 
Please email your business plan and forecast to enquiries@nottscf.org.uk or post to:
Dragons Den
Nottinghamshire Community Foundation
Pine House B, Ransom Wood Business Park
Southwell Road West
Mansfield
Nottinghamshire
NG21 0HJ
Shortlisted applicants will be invited to present their ideas to the Dragons at Trent University Business School on Tuesday February 6th 2018.
Released by Business Link - Nottinghamshire Community Foundation organise Dragons Den style event
---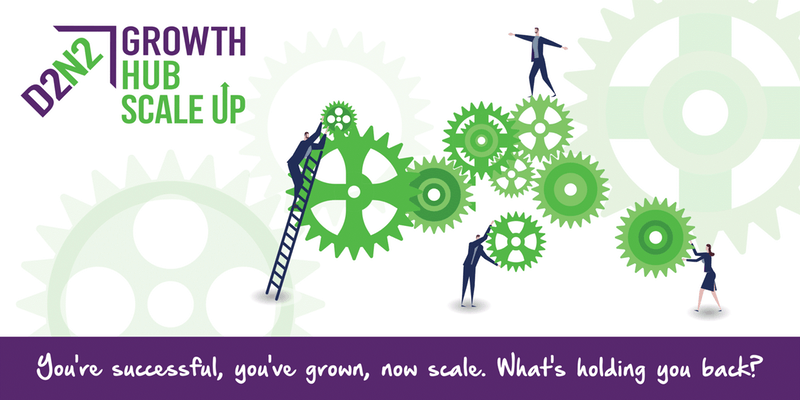 ScaleUp Service for ambitious businesses now available from D2N2 Growth Hub
 Fast-growing and ambitious businesses are being offered a helping hand to step up to the next level.
The D2N2 Local Enterprise Partnership (LEP) – the private sector-led partnership promoting economic and jobs growth across Derby, Derbyshire, Nottingham and Nottinghamshire – is offering financial assistance and coaching to firms keen to 'scale up'.
According to the Sherry Coutu, CBE, in the Scale-Up Report, it is estimated that growth of just one per cent in the number of UK companies scaling up could create 238,000 new jobs and add £38bn to the UK's GVA (Gross Value Added, a measure of the value of goods and services an area produces versus its consumption of resources) within three years.
Firms qualifying for D2N2 Growth Hub ScaleUp, marketed by the LEP's D2N2 Growth Hub, will be small and medium-sized enterprises (SMEs) which have achieved some or all of the following criteria or be able to demonstrate their ambition and potential to do so in the foreseeable future:
employ ten or more people at the start of the qualifying period
have a turnover of between £1m and £15m a year;
have consistent annual growth of at least 20% for the past three years.
The D2N2 Growth Hub – which works closely with SMEs in the LEP area to help them grow – has identified almost 200 companies across Derbyshire and Nottinghamshire which could qualify for support under the ScaleUp Service. It is being delivered in partnership with Nottingham Trent University's Nottingham Business School, the Professional Coaching Alliance, the Centre for Management & Business Development and East Midlands Chamber*.
Places on the exclusive D2N2 Growth Hub ScaleUp Service are limited. Firms wanting to take part in the programme should, in the first instance contact www.d2n2growthhub.co.uk/scaleup, email info@d2n2growthhub.co.uk or call 0333 006 9178.
Businesses meeting the eligibility criteria will initially receive a free comprehensive review of their scale up challenges to explore the specific issues related to rapid business growth and develop a bespoke action plan.
Those selected to take part will receive high-quality coaching to help address identified priority areas and leadership and management development, access to workshops focusing on identifying potential markets, advice on sales and marketing and access to finance and bespoke support through an executive peer-to-peer network.
SMEs will be able to reclaim, through a grant scheme, a proportion of the cost of the business support package to help them reach the next level of growth.
Firms wanting to take part in the programme can contact www.d2n2growthhub.co.uk/scaleup, email info@d2n2growthhub.co.uk or call 0333 006 9178.
---
Midlands Engine Investment Fund Launch Debt and Small Business Loans Funds
The British Business Bank has announced the first wave of its £250million Midlands Engine Investment Fund (MEIF), with the launch of £120million of SME debt finance, which is now available to businesses across the 10 Local Enterprise Partnership areas in the Midlands.

Aimed at eliminating regional imbalances in funding, the British Business Bank is keen to support fast-growth organisations and businesses looking to expand into new markets and boost productivity, supporting job creation. 

The £120m fund is composed of two separate lots- £30m of small business loans valued between £25,000 and£150,000 as well as £90m of debt finance worth between £100,000 and £1.5m. The £120m fund is part of a wider £250m commitment, with further funding due to be made available later this Autumn. 

MEIF is a collaboration between the British Business Bank and ten Local Enterprise Partnerships (LEPs) in the West Midlands and East and South East Midlands. MEIF provides over £250m of investment to boost small and medium business (SME) growth in the Midlands. 

Please click to view the midlands engine spotlight report.

Please visit The Midlands Engine Innovation Fund website to find out how you can apply for funding.
 Released 29/08/2017 - British Business bank launches first £120m tranche of Midlands Engine Investment Fund
---
£20,000 Prize Up For Grabs For Budding Entrepreneurs
The search is now on to find the next budding entrepreneur in a competition for business talent with a £20,000 prize up for grabs. This year marks the first time the competition has gone National.
Baldwins KickStart Young Entrepreneur Awards was launched in 2013 and is now in its fifth year, with three of the first four winners coming from the Midlands region.
The 2016 Winners were Leicester-based Sophie Kelly and Susie Beere who launched Snooks, which is a dedicated clothing brand for ski and snowboarding clothing solely for women.
The competition is run by Baldwins Accountants, which now has 34 offices across the country, and is expanding to new areas this year and entries are now open.
The award offers financial support and business advice to the tune of £20,000 to 18-to-25-year-olds in the North East, North West and Midland areas, who are looking to start up a business or have done so recently.
Entrants submit their idea and business plans are whittled down to ten semi-finalists to be invited for an interview with Baldwins senior management team.
Three finalists will then present their ideas to a live audience at a gala dinner in November, at the Edgbaston Cricket Ground in Birmingham.
The winner, decided by an audience vote, receives a £10,000 grant along with £10,000 worth of mentoring and accountancy advice.
The two runners up will be presented with £5,000 worth of mentoring and accountancy advice.
David Baldwin, director of Baldwins Accountants said: "Kick-Start celebrates young entrepreneurs and their new businesses and gives them an increased chance to make their business dreams a success.
"All of our winners over the past years are doing well, growing their businesses and we are proud to have played a part in that.
"It is a great way for new businesses to make themselves known as well as giving them a chance to win a significant amount of money to contribute to the company's success. Even going through the process is good experience for business life."
Sophie Kelly added: "Winning this award meant that we were able to invest in marketing our brand and getting the company name out there. Not only did we receive an investment, but winning the award also showed the support and belief that Baldwins have for us.
"We urge anyone starting up a new business to enter for this award as it has had a huge impact on our success and it could do the same for you."
The Baldwins KickStart Young Entrepreneur Awards 2017 are now open for entries. For more information and to enter please visit the Baldwins KickStart Young Entrepeneur Awards website.
Released by D2N2  - £20,000 Prize Up For Grabs For Budding Entrepreneurs - 05/05/2017
---
Funding opens for D2N2 Digital Growth Programme helping businesses
Businesses and organisations across Derbyshire and Nottinghamshire can now apply for grants of up to £16,000 to improve their digital capabilities through a £7.2m programme - half funded by the D2N2 Local Enterprise Partnership.
A grant scheme has been set up through the D2N2 Digital Growth Programme, which aims to help enterprises with growth aspirations to maximise their use of existing technology, or to explore and introduce new and emerging information and communications technology (or ICT) products.
Grants of between £2,000 and £16,000 are available to businesses and other organisations which register to take part in the scheme. Grants are to cover 40% of the total cost of ICT improvements, up to the £16,000 maximum, with applicants having to match-fund that amount to make up the balance.
The overall aim of the D2N2 Digital Growth Programme is to encourage and improve competitiveness and productivity. Free information events to publicise the programme were held across Derbyshire and Nottinghamshire in February and March.
D2N2's £3.6m investment in the programme is coming from the ERDF (European Regional Development Fund) portion of its wider €250million in European Structural and Investment Funds (ESIF); EU funding to be spent over six years (up to 2020) on projects to help small and medium-sized enterprises (SMEs) be more competitive and expand.
The remaining £3.6m for the programme will come from partners Nottinghamshire County, Nottingham City, Derbyshire County, Derby City and Rushcliffe Borough Council; Nottingham's Creative Quarter Company and East Midlands Chamber (Derbyshire, Nottinghamshire, Leicestershire); and through businesses participating in the grant element of the Programme.
The grant scheme is being delivered by a partnership including East Midlands Chamber, Nottinghamshire and Derbyshire County Councils, and Nottingham City Council.
The D2N2 Digital Growth Programme is due to run until 2019. It will deliver:
360 action-planning workshops
an annual digital conference
a dedicated digital business advice
workforce development skills advice
£1.8m technology grant scheme managed by the local authorities.
 At least 2,380 businesses will be engaged with over the course of the programme; resulting in 852 businesses receiving intensive support, the creation of 69 new businesses, and 639 businesses introducing new digital products or processes.
Businesses interested in finding out more about the D2N2 Digital Growth Programme grants, which are subject to eligibility criteria, can visit and register online. 
Released by D2N2  - Funding opens for D2N2 Digital Growth Programme helping businesses - 13/04/2017
---
 If you wish to receive Business Investment News directly to your inbox, please sign up through Email Me
---
---