Summer Consultation ( July 2011)
Summer Consultation ( July 2011)
A Core Strategy is the key Development Plan Document (DPD) within the Local Development Framework, in which decisions are made about the amount, location and timing of new development in broad terms.
Broxtowe has been working closely together with the Councils of Ashfield, Erewash, Gedling, Nottingham City and Rushcliffe to prepare aligned Core Strategies for Greater Nottingham. Broxtowe's Strategy will, once adopted, set out the vision, strategic objectives and spatial strategy for future developments within Broxtowe Borough.
Consultations took place in 2009 and 2010 on 'Issues and Options' and an 'Option for Consultation' document. Between July and October 2011 the Council consulted on a 'Housing Provision Position Paper', an amended policy on Climate Change, strategic housing sites for allocation and broad locations for future housing growth. This consultation is now closed, however details of the consultation events and all relevant documents are available to the right. You can also click on one of the house symbols on the map below to find out more information about that area.
A large number of responses were made to the recent consultation and these are currently being analysed. A report on the responses will be given to Broxtowe's councillors within the next few weeks and will be available on the website.
Due to emerging legislation contained in the National Planning Policy Framework, which is due out late March 2012, the publication stage has been delayed from February until approximately June 2012 in order for the Council to fully incorporate the policies in this Nationally important document in its Core Strategy.
Next Stages:
'Publication Draft' - June 2012;
'Examination in Public' - Winter 2012/13;
Adoption - early 2013.
If you need further information, please contact us on the details provided.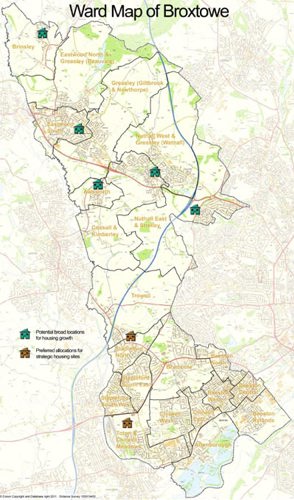 ---
---