Stapleford Town Deal
Information about the Stapleford Town Deal process and how residents, businesses and other stakeholders can get involved.
It was announced in September 2019 that £3.6bn is being made available to regenerate over 100 towns across the UK. Stapleford has been chosen as one of the towns to receive funding. Each town is set to receive up to £25m worth of investment in a number of areas.
The Government published a prospectus in October 2019 setting out the three areas of regeneration, the Towns Fund will focus on:
urban regeneration, planning and land use,
skills and enterprise infrastructure and
connectivity
More information on the Stapleford Town Deal
How will Stapleford get a Town Deal?
---
How will we get Stapleford a Towns Deal?
The Council, as the governing authority, convened the Executive Town Deal Board in January 2020. This Board to date has been working towards the creation and submission of Stapleford's Town Investment Plan (TIP). This plan will set out the vision, strategy and outline projects for Stapleford. Ultimately acting as a bid document to justify our funding request.
To offer wider discussion with interested parties, a Stakeholder Group has also been put in place. The role of this group so far has been to support the production of the TIP; feeding views, wants and needs for Stapleford in to the Executive board.
Alongside this we have consulted with local residents, businesses and other interested organisations as to their own ideas and the ideas generated by the two boards. This feedback has been processed and is reflected in the final TIP document. Due for submission by 29th January 2021, there will be further opportunities to feedback on individual project proposals after the TIP has been submitted to Government.
---
Future milestones
The current timeline for TIP submission and further work on each project.
 

| | |
| --- | --- |
| Task | Date |
| Submit the TIP  | 29th January 2021 |
| Sign-off from central Government  | March-May 2021 |
| Work to commence on individual projects | March-May 2021 |
Further to these milestones, the Town Deal Executive board have a work programme with multiple opportunities for the public to directly input in to individual project development, post TIP submission to government.
---
Town Deal Executive Board
The Council have convened the Town Deal Executive Board in line with the Government published Towns Fund Prospectus. The inaugural meeting took place on Friday 10th January 2020. 
Meeting dates for 2021 are as follows: 
Friday 26th February 
Friday 9th April 
Friday 21st May 
Friday 2nd July
Friday 13th August 
Friday 24th September 
Friday 5th November 
Friday 17th December 
Meeting minutes and summary documents
Friday 10th January 2020
Friday 17th January 2020 
Friday 14th February 2020
Friday 13th March 2020 
Friday 1st May 2020
Friday 29th May 2020 
Friday 26th June 2020 
Friday 24th July 2020

Wednesday 12th August 2020 
Friday 4th September 2020
Friday 9th October 2020 
Friday 13th November 2020 
Friday 18th December 2020 
Friday 15th January 2020 
Friday 26th February 2020 
Further supporting information
Registers of Interest - these are available upon request via the contact details below 
---
The Town Deal area
On the announcement of the Towns Fund, the Government used the 'Stapleford BUASD' boundary provided by the Office of National Statistics, to initially define Stapleford. This is the geographic area to be represented by the Stapleford Town Deal board, where investments detailed in the TIP will occur.  
Click to download a copy of the Town Deal area plan - Stapleford Town Deal Area Plan (pdf.) (934KB) (Opens in a new window)
Click to view an interactive map of the Town Deal area. This map will see additional features added over the Town Deal process  - Interactive Map  (Opens New Window)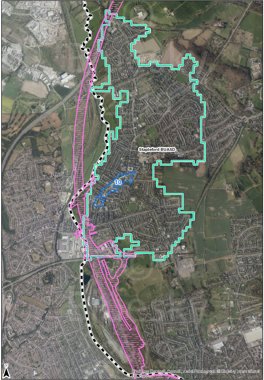 ---
---