Plastic Challenges
Learn about how to reduce plastic waste in your home, reuse plastic use where possible and which plastics can be recycled.
According to WRAP (Waste and Resources Action Programme), around 40% of plastic is used in packaging and the UK generates around 2.4 million tonnes per year of packaging waste. Of this, around 1.7 million tonnes is from households. That is more than half! Recyclingbins.co.uk say "most UK households throw away at least 40kg of plastic each year". By 2050, it is estimated that the oceans could contain more plastics than fish.
REDUCE: Avoid unnecessary plastic
Reducing your use of plastic overall involves research and learning but we have come up with a couple of things which can help reduce volume coming out of your household.
Plastic bags are used much less than they were five years ago and many people are already embracing bags for life. When it comes to buying items with less packaging, it is important to think about what is necessary. Some foods and items are protected by their plastic packaging, whilst others have an excessive amount to look bigger than they are and be easier for shops to display.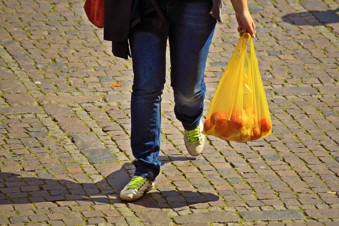 Here are some ways to shop for items with less plastic:
Buy food locally and use your own paper bags, bags for life, reused boxes, tubs or baskets.
Buy gifts and household items locally and choose items with just necessary packaging
Check packaging for recycling information and use this to decide on which item is 'greenest'
Use your bags for life or wheeled trolley to carry items
Buy beauty products in larger packaging if you intend to use for a long time, as in the long-term, it works out as less packaging overall
Home make items wherever possible and use reusable items at home as packaging
To work out what you need to reduce, every time you throw away a non-recyclable plastic item, take a photo of it and review all your photos from a week. See if you can cut out any of the items in future by changing your shopping habits.
REUSE: New life for a plastic item
Pick a plastic item you buy a lot and find a new use for it. Take the 1 litre plastic drinks bottle as an example. Did you know, from that one bottle you can make a planter, use it as a container, create a DIY watering can, transform it into a piggy bank or a bird feeder. It may be recyclable but reusing it gives it another life before recycling. Food trays not recyclable can have many uses too.  
There are so many ways you can reuse and here are just a few ideas:
RECYCLE: Making good use of plastic containers
Beauty product bottles, drinks bottles and cleaning product bottles are recyclable, once washed and if placed in the green-lidded bin. Or you could reuse them? Some supermarkets have concentrated cleaning solution you can dilute yourself, in a used, empty cleaning spray bottle. It could save you money too!
Could you refill a beauty bottle with refills? There are lots of at-home recipes for face and hair masks using some of the things you can find in the kitchen, so why not give one a go and get the whole family involved in the fun!
Here are some ideas:
---
Recycling
tel: 0115 917 7777
---