Easter Celebration
Easter is celebrated by Christians throughout the world over a period of five days.
What  Is Easter?
Easter celebrates Jesus dying on the Cross and so paying the penalty for the sins of the world, then rising again from the dead to lead people onto new life with God.
 Did you know: the name Easter is believed to come from Eostara, the goddess of rebirth.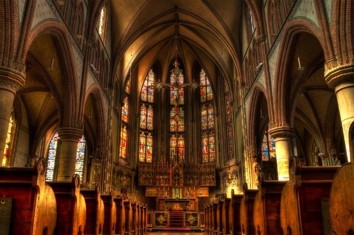 When Is Easter?
 Easter starts with Maundy Thursday when Christians remember that Jesus ate the Passover meal with his disciples – also known as the Last Supper. Jesus taught his disciples that the bread and the wine at the meal signified that he would become the sacrificial lamb by which sins are forgiven.
The next day is Good Friday which commemorates Jesus dying on the cross for the sins of the world.
Easter Monday is the day when Christians celebrate Jesus rising from the dead after three days, showing the way to new life reunited with God.
 Did you know: The word 'Maundy' refers to the tradition of washing of feet, initiated by Jesus as he washed his disciple's feet as an act of service during the Last Supper.
How Is Easter Celebrated?
Christians worship in church on Good Friday and Easter Sunday'. Easter Sunday is also celebrated with the giving of chocolate Easter.
Did you know:  Easter eggs probably have their origin in the fact that eggs were a luxury given up for Lent and then eaten as part of the Easter breaking of the Lenten fast.  Eggs have also come to symbolise the new life in Christ that Christians celebrate at Easter. Modern times has seen the adoption of chocolate replacing real eggs.
Consider
 For those celebrating: This year Easter will look different in the way it can be practiced, but you can let those who are celebrating know you are thinking of them by sharing your new learning and considering how you can put a smile on their face even with a simple message of Happy Easter!
For yourself: During these unprecedented times, consider how you could be there for your family, friends and colleagues with the spirit of giving and a sense of new hope. This may be through calling or checking up on those who you haven't seen or spoken to in a long time or even setting new goals for yourself.
---
---