Vaisakhi Celebration
Vasaikhi celebrates the start of the month Vaisakhi, the second month of the Punjabi Calendar.
Did you know: Vaisakhi is partly a Harvest festival, as well as a festival to commemorate the inauguration of the Khalsa movement.  (Khalsa – the beginning of the Sikh community of the 'panj pyare' the 5 who responded to the 10th Guru's call of sacrificing themselves for their faith and thus embody what it means to be a 'sikh'.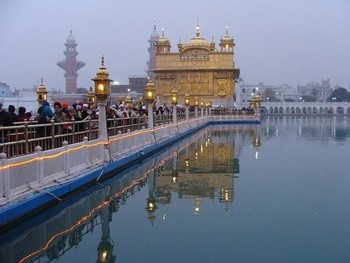 Who Celebrates Vaisakhi and Where?
Vaisakhi takes place on April 13th (or 14th depending on where you are) every year and is celebrated by Sikhs all across the globe.
Did you know: Vaisakhi is the most important celebration for Sikhs as it also celebrates the birth of the Khalsa. In 1699 the tenth guru, Guru Gobind Singh, chose Vaisakhi as the occasion to transform the Sikhs into a family of soldier saints, known as the Khalsa Panth. Guru Gobind Singh being the founder of the Khalsa.
How Is Vaisakhi Celebrated?
The festival is marked with nagar kirtan processions through the streets (nagar means "town") which form an important part of Sikh culture and religious celebrations.
Kirtan is a term meaning the singing of hymns from the Guru Granth Sahib, the Sikh holy book. Celebrations always include music, singing and chanting scriptures and hymns.
The processions are led by traditionally dressed Panj Piaras (representing the 5 who responded to the call of the 10th Guru).
The Guru Granth Sahib will be carried in the procession in a place of honour.
Did you know:  Prior to the procession Sikhs may meet at the gurdwara (the Sikh temple) and the procession will end with a family meal in the evening. Vaisakhi is a mark of gratitude for the harvest food and crops of that year and prayers for future harvest. As such Vaisakhi marks a new beginning of seasons, crops and revival of faith.
Consider
For those celebrating: Due to the pandemic, your Sikh peers may not be able to celebrate and commemorate this event as they usually would with their community. Consider how you could reach out to your Sikh friends and colleagues at this time with a kind message, showing appreciation and understanding of what this celebration means for them and share in their hope that the next year brings back the blessing of congregational celebrations.
---
---