Businesses in Broxtowe
Local businesses have been working hard to stick to the rules and be COVID-secure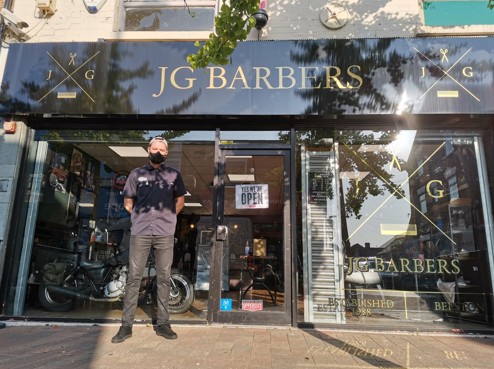 Town Centres
The team at JG Barbers have gone above and beyond when it comes to the COVID-19 rules and regulations, staying one step ahead of the changes. Elliott says "It's encouraging to realise that people within Broxtowe and Beeston are acting safely and it's safe to go out and shop locally."
Zahid, COVID Information Officer said:
"Businesses like JG Barbers are going out of their way and putting in extra measures for maximum safety. They are committed to providing a safe, secure and efficient service in these very challenging times. The positive approach from the team, often staying steps ahead of the guidance, is great to see and makes them a great example of how a business can adapt and do well at the same time."
Helen of Floral Innovations has introduced window signage to remind customers of the rules, a one in and one out system, face covering and protective screen at the till.
"These measures are so important. COVID-19 may have side-lined lots of plans but those important life moments are still happening. People want to say congratulations, I am thinking of you or thank you with a bouquet and I want to be there for them."
Janice, COVID Information Officer commented:
"Floral Innovations and many other businesses are adapting very well to the ever-changing information, advice and guidance, moving to mandatory status.  Helen is going the extra mile to be compliant, and receptive to suggestions to grow business but continuing to put the health of people at the top of the priority list."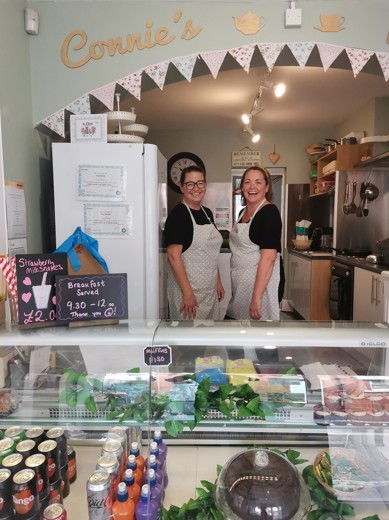 Jacqui and Helen of Connie's Kitchen named their café after their grandmother. "Business is more than just business for us, it is about our community. When things get tough, we come together and appreciate the little things. A bacon roll, a smile and a bit of chit chat in a safe environment goes a long way."
Janice, COVID Information Officer said:
"This is exactly the attitude to take in a situation like this. Be open and talk to us so we can help you continue to implement the precautions needed and keep people safe. Also, keep up that smile and friendly attitude, the presence of masks and screens doesn't mean we need to lose that warm welcome and positive experience when using local services."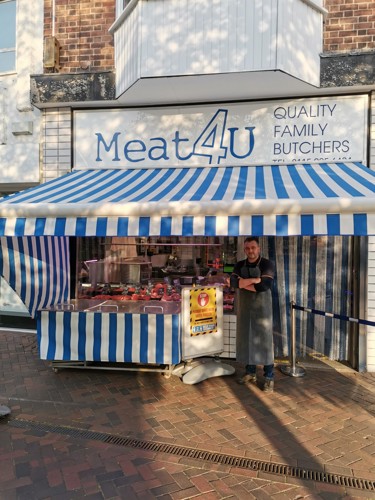 Matthew of Meat4U has screens up and a system for customers to wait outside until called in. "The customers have been really understanding which is good. We have been here 18 years and love the area and the community. It's important we stick together."
Zahid, COVID Information Officer explained:
"So many people have been supportive of the measures and Matt has told me that the understanding of their loyal and new customers is hugely appreciated. We are all practicing patience and local businesses like Meat4U want to say a huge thank you to everyone for their continued support".
Beeston Market - back from Monday 12th October 2020
The Beeston Market is now back, on Mondays and Wednesdays weekly. This week was the first week stallholders and traders were back, with the support of a new Market Officer, Clair Storey.
Clair, talks about what she and the stallholders/traders have been busy doing to be COVID-secure...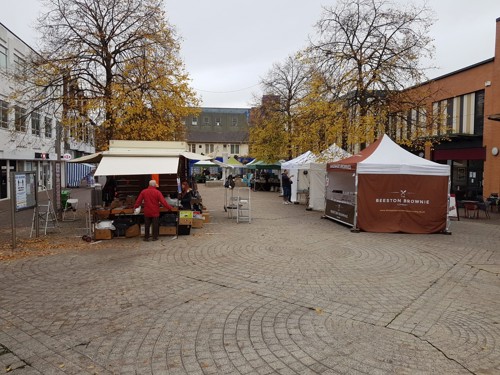 Good spacing between stalls to allow for movement of people

Hand sanitiser at every stall (traders have their own hand sanitiser)

2m distancing rule, 1m when receiving goods from a stall

Extra efficient yet friendly service

Good outdoor location – in the fresh air
"Beeston has been very quiet this last week and the market has been too. We hope that in the coming weeks, residents will choose to shop locally to keep our local shops and stalls in the market, in business, at this challenging time." - Clair Storey, Market Officer at Broxtowe Borough Council
---
Crimestoppers
tel: 0800 555 111
Broxtowe Borough Council
tel: 0115 917 7777
---