Open For Business
Information for businesses on getting COVID-secure and advice for residents on shopping safely.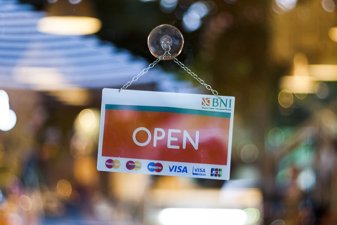 Work continues to assist businesses on Broxtowe's high streets to re-open safely.
The vast majority of businesses in Broxtowe are now permitted to reopen, as long as this is done so COVID-securely. As per the government guidelines, the following businesses will not be permitted to reopen from 15th August 2020 and must remain closed until official  government guidance states otherwise:
Nightclubs, dance halls, discotheques;
Sexual entertainment venues and hostess bars.
A full list of businesses detailing which can now re-open, the applicable guidance for reopening  in those different business settings and those that must remain closed can be found at - www.gov.uk/government/publications/further-businesses-and-premises-to-close/closing-certain-businesses-and-venues-in-england (Opens in a new window)
---
Guidance for businesses
To assist with becoming "COVID-19 secure", a document has been produced by the Council, 'Guidance on Re-opening Retail Shops' and can be downloaded here - Guidance on Re-opening Retail Shops (Opens in a new window). 
Further guidance is provided for businesses under the following headings:
---
Reporting outbreaks of Coronavirus: Guidance for Businesses
The Department of Health and Social Care have published guidance for businesses and organisations on how to recognise, contain and report incidents of coronavirus. Early outbreak management information has been created, in the form of 'Action Cards' to make sure that people who run businesses or organisations:
Know how to recognise and report an incident of coronavirus; and
Are aware of measures local health protection teams may advise in order to contain it. 
Further guidance can be found on the government website at  - Guidance for businesses on 'Early outbreak management' (Opens in a new window).
Copies of the various Action Cards can be viewed and downloaded for printing at - Action Cards for different settings (Opens in a new window).
---
Hands. Face. Space
The 'Hands. Face. Space' public information campaign urges the public to continue to wash their hands, cover their face and make space to control infection rates and avoid a second peak.
During the autumn and winter months, as more people would typically prefer to spend more time indoors, especially when accessing goods, services and socialising; it is vitally important this new campaign is shared to spread the important messages on how to keep others safe.  
Businesses can now download and print posters (links below) to display in their windows and inside premises to promote safety measures the campaign looks to highlight, and by extension, compliance of the rules for visiting businesses.
Hands.Face.Space resources
Download Poster - For More Advice, a4 PDF format (Opens in a new window)
Download Poster - Got Symptoms? a4 PDF format (Opens in a new window)
Download Poster - Hand Washing Poster placeholder (Opens in a new window)
Download Poster - Thanks for wearing a face covering, a4 PDF format (Opens in a new window)
Download Poster - Leave Space, a4 PDF format (Opens in a new window)
Further information on the campaign can be found on the government website - New campaign to reduce the spread of coronavirus indoors (Opens in a new window).
---
Track and Trace
From Friday 18th September, it will be mandatory to collect details of customers and visitors in the following establishments,  regardless of them being indoor or outdoor venues or mobile settings:
hospitality businesses, including pubs, bars, restaurants and cafés;
tourism and leisure venues, including hotels, museums, cinemas, zoos and theme parks;
close contact businesses, including hairdressers, barbershops and tailors;
facilities provided by local authorities, including town halls and civic centres for events, community centres, libraries and children's centres;
places of worship, including use for events and other community activities.
All those listed above should hold records for all these visits for 21 days. This reflects the incubation period for COVID-19 (which can be up to 14 days) and an additional 7 days to allow time for testing and tracing. After 21 days, this information should be securely disposed of or deleted within GDPR guidelines.
NHS COVID-19 App
Furthermore, once the NHS COVID-19 app is launched on 24th September, all those listed establishments above will also have a legal duty to display an official NHS QR code poster, so that customers and visitors can check into a venue using the NHS COVID-19 app.
Businesses are encouraged to actively promote the app to their customers in anticipation of the 24th September. Using the app has benefits for both the customer/visitor and the business, as once each individual visitor has checked-in via the app, it is not then necessary for the business to collect contact details again separately for the purposes of Track and Trace.
Businesses can also now go and produce their unique NHS QR code posters, in advance of the app launch and display in the correct areas of their premises. It is impotant to note that if you have a business with multiple venues, you will need to create a separate QR code poster for each venue, as each QR code should be unique to a specific premises.
Track and Trace Resources
Create, download  and print your businesses NHS QR code poster at - www.gov.uk/create-coron uniqueavirus-qr-poster (Opens in a new window)
Find out more information on how the NHS app will work and tips on where to display QR posters at - https://covid19.nhs.uk/information-and-resources.html
Further guidance for businesses on Contact Tracing (Track and Trace) can be found on the government website at - Information businesses should collect and record keeping (Opens in a new window)
For more information on how your business can collect and store data correctly for the purposes of Contact Tracing, in line with GDPR guidlines, please Visit the Information Commissioner's Office - '5 simple steps' for businesses (Opens in a new window)
---
Mandatory face coverings
It is currently mandatory for face coverings to be worn whilst travelling on all public transport, within the transport hubs, as well as many other settings including shops and supermarkets. There are exemptions for children under 11 years old, people with breathing difficulties and people with a disability.
For further details including full list of the different settings where face coverings are now mandatory and exemptions,  View the Government's guidance on face coverings (Opens in a new window). 
Please note that wearing a face covering in a shop,supermarket or other setting, will be in addition to any other Covid safety instructions or changes to how a business may be operating to remain Covid-secure.
---
Operating COVID-securely: guidance packs for different business types
All businesses in Broxtowe are required to continuously review the latest Government guidance on remaining "COVID-19 secure" for their respective businesses type. 
In anticipation of the changes meaning groups of no more than 6 people can gather in various settings and the mandatory collection of Track and Trace information; amendments to some of the guidance packs listed below were since published, some with 'Priority Actions' that  businesses must read and implement accordingly.
The latest guidance, as of 10th September published by the government for the various different settings include:
Those with new 'Priority Actions'
Those without 'Priority Actions', however still updated guidance
A full contents of ALL the different businesses types and the relevant guidance packs can also be found at  Guidance for businesses - Working Safely During Coronavirus (COVID-19) page (Opens in a new window).
---
Fire safety checks
Businesses can also access further guidance on 'Fire Safety for Business' and what checks they can do in the process of reopening of premises. View the Nottinghamshire Fire and Rescue Service website (Opens in a new window).
---
'Here to Help' scheme for food businesses
The Here to Help campaign provides practical guidance for all food businesses during the pandemic. The guidance published by the Food Standards Agency (FSA) covers how to make changes to the operating model of a food business, reopening after a period of closure or starting a new food business.  View the FSA - Here to Help guidance (Opens in a new window)
---
Supporting businesses through the Re-opening the High Street Safely Fund (RHSSF)
COVID Information Officers
The Council's COVID Information Officers  Janice and Zahid, have been working hard to help local businesses reopen safely. They have assisted businesses implement strict health and safety measures and keep customers safe whilst using their services. Measures they have helped businesses introduce include:
Determining a suitable maximum capacity in premises (to give customers plenty of space),
Mandatory face coverings worn by staff (including help with supplies),
Leave space, face covering and clean hands reminder posters in shop windows, 
Hand sanitiser and hand washing facilities (where possible),
Contact Tracing processes,
Further general advice and guidance.
Our Information Officers are here to help and can be seen around our  high streets, keeping businesses and customers as safe as possible. 
---
Guidance for residents
Residents visiting the town centres are asked to do the right thing to protect themselves and others by:
You must not meet in groups of more than 6. This applies indoors and outdoors, including in private homes. 
Download the NHS COVID-19 APP from 24th September, to provide details when visiting a premises, assisting the NHS with Track and Trace.
REMEMBER - Hands.Face.Space

Regularly washing their hands/sanitising their hands
Wearing a face covering in all settings where it has been deemed mandatory by government. For a full list of the places where it is mandatory to wear a face covering and exemptions,  View the Government's guidance on face coverings (Opens in a new window). 
Keeping a safe distance from others. At least 2 metres is still the recommended social distance where possible.
Trying to visit at less busy times and not visiting in groups from your household where possible
Adhering to guidance from businesses about how to shop with them
Staying at home if they have any of the symptoms of COVID-19 including new continuous increase cough, shortness of breath, loss of taste or smell and self-isolating in line with the Government's stay at home guidance (Opens in a new window).
If you can support local businesses online, please continue to do so.
Anyone who is concerned about a business not operating appropriately can report this to the Council by emailing health@broxtowe.gov.uk
---
Staying up to date
The easiest way to stay up to date with the Council's updates is:
Further information
---
Crimestoppers
tel: 0800 555 111
Broxtowe Borough Council
tel: 0115 917 7777
---