Open For Business
Information for businesses on operating COVID-Securely and advice for residents on accessing goods and services safely. Further details on the latest business guidance, based on the current step of the Covid Recovery Roadmap and the associated restrictions.
Guidance for businesses
Further guidance is provided for businesses under the following headings:
---
1. Current COVID-19 Restrictions: STEP 2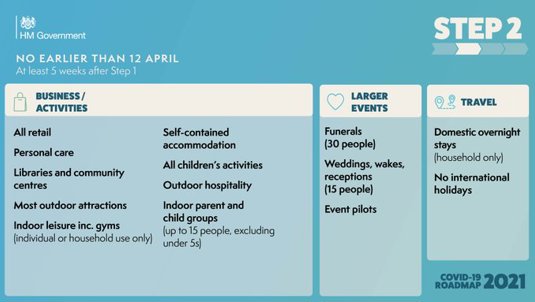 On the 12th April 2021 the UK reached STEP 2 of the Government's Covid Recovery Roadmap, as such the restrictions associated with this step now apply under law.
On reaching STEP 2, some further restrictions from STEP 1 were lifted, including rules around social contact at larger events, the re-opening of all retail, hospitality settings now able to re-open outdoors only and domestic overnight stays also permitted.
Full details regarding the businesses and venues which are currently allowed to open are published on the Government's website and can be viewed here - STEP 2 Guidance (Opens in a New Window).
---
Re-opening of businesses and venues in STEP 3 - No earlier than 17th May
The roadmap out of lockdown is well underway and we are currently at STEP 2 of the Government's four-step Covid Recovery Roadmap. Providing this is confirmed by Government and all four tests for re-opening are met, the country will officially move to STEP 3 from Monday 17th May 2021.
Further details of the four-step Roadmap and the four Government tests can be found here - Covid-19 Response Spring 2021 (Opens in a new window).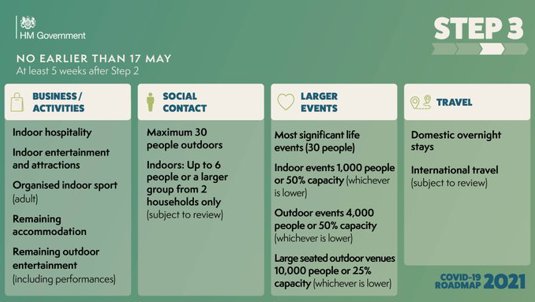 Changes to businesses and venues in STEP 3
The main changes that will affect businesses and venues on reaching STEP 3 include:
Indoor entertainment and attractions will be permitted to re-open Covid-Securely;
A new 30 person limit outdoors;
'Rule of 6' or two households will be permitted to meet socially indoors, which includes Hospitality venues and will not require a 'substantial meal' to be ordered, although customers must order, eat and drink while seated ('table service');
Indoor leisure facilities will be able to allow organised adult sport;
The remaining accommodation currently closed in STEP 2 will be permitted to re-open to facilitate domestic overnight stays.
Preparing to re-open from 17th May
Businesses and other settings that either remain closed or are trading differently during STEP 2, are strongly advised to continue reviewing the Government's guidance packs (See Section 2. below) and monitor official communications from the Council and relevant industry bodies. Sector specific guidance is constantly updated, whether this is to provide clarity to those now permitted to open, or those preparing to as part of reaching the next step. By keeping updated with the latest guidance this should ensure businesses can re-open and trade Covid-Securely going forward. 
---
2. Operating COVID-Securely: Guidance packs for different business types and settings
By law, all businesses in Broxtowe must follow the latest Government guidance on remaining "COVID-Secure" for their respective businesses type/setting.  
The Council have also produced two bespoke guidance packs, which can used as a helpful checklist by businesses in preparation for STEP 2 reopening.
Further helpful resources
'Here to Help' scheme for food businesses
The 'Here to Help' campaign provides practical guidance for all food businesses during the pandemic. The guidance published by the Food Standards Agency (FSA) covers how to make changes to the operating model of a food business, reopening after a period of closure or starting a new food business.  View the FSA - Here to Help guidance (Opens in a new window)
Close Contact Industry guidance
Further tailored guidance for Close Contact businesses is available via the British Beauty Council website (Opens in a new window) and the National Hair & Beauty Federation (NHBF) website (Opens in a new window).
Fire safety checks
Businesses can also access further guidance on 'Fire Safety for Business' and what checks they can do in the process of reopening of premises. View the Nottinghamshire Fire and Rescue Service website (Opens in a new window).
---
Track and Trace Compliance
Some businesses and venues that have been closed for several months and re-opened as part of STEP 2, are reminded that Track and Trace detail collection is required by law.
It is mandatory for the following establishments once legally able to re-open, to collect details of ALL customers and visitors on their premises, not just a single nominated contact for the table/group, regardless of them being indoor or outdoor venues or mobile settings:
hospitality businesses, including all pubs, bars, restaurants and cafés;
tourism and leisure venues, including hotels, museums, cinemas, zoos and theme parks;
close contact businesses, including hairdressers, barbershops and tailors;
facilities provided by local authorities, including town halls and civic centres for events, community centres, libraries and children's centres;
places of worship, including use for events and other community activities.
All those listed above must hold records from all their customers and visitors for 21 days. This reflects the incubation period for COVID-19 (which can be up to 14 days) and an additional 7 days to allow time for testing and tracing. After 21 days, this information should be securely disposed of or deleted within GDPR guidelines.
NHS COVID-19 App
All those listed establishments above, which must comply with mandatory Track and Trace contact detail collection, have a legal duty to display an official NHS QR code poster, so that customers and visitors may check into a venue using the app. Businesses are encouraged to actively promote the app to their customers. Using the app has benefits for both the customer/visitor and the business, as once each individual visitor has checked-in via the app, it is not then necessary for the business to collect and store contact details separately for the purposes of Track and Trace compliance.
Displaying a QR code poster
Businesses must produce their unique NHS QR code posters and display in the correct areas of their premises (near entrances) by law. It is important to note that if you have a business with multiple venues, you will need to create a separate QR code poster for each venue, as each QR code should be unique to a specific premises.
From 12th April businesses will need to be mindful (in particular hospitality businesses) that multiple opportunities for customers to scan a QR code through their NHS Covid-19 app will need to be provided, as customers will be permitted to re-visit these venues Outdoors only.  This presents a challenge to pubs, cafes and restaurant venues as there will still be a legal requirement to ensure all customer and visitor details are collected.
Duplicating the venue's unique QR code and displaying it at each outdoor table, on menus or table number markers, as well as affixing to gazebo/marquee supports is advised and provides more opportunities for customers to scan and provide their details at venues in a socially distanced manner. Otherwise details will need to be collected and stored by the venue using a manual booking system. See further resources below to ensure contact details are collected and stored legally.
Track and Trace Resources
Create, download and print a NHS QR code poster for your premises at - www.gov.uk/create-coron uniqueavirus-qr-poster (Opens in a new window)
How the NHS app will work and tips on where to correctly display QR posters at - https://covid19.nhs.uk/information-and-resources.html
Further guidance for businesses on Contact Tracing (Track and Trace) can be found on the Government website at - Information businesses should collect and record keeping (Opens in a new window)
How your business can collect and store data correctly for the purposes of Contact Tracing, in line with GDPR guidelines, please Visit the Information Commissioner's Office - '5 simple steps' for businesses (Opens in a new window)
---
Community Testing Facilities: Access for businesses
Since the 25th February 2021, there has been a community testing site at the Stapleford Library. Testing is available for adults between the age of 18 – 65, who show no symptoms of COVID-19. Businesses can utilise these facilities and are encouraged to promote regular testing to their staff members, which will help identify cases and keep their workforce safe.
If you have a lot of staff to test
You might want to talk to us about pre-booking a regular slot for your business at our community testing site. To explore this option please contact press@broxtowe.gov.uk and your request will be passed to the project team. 
Why are we testing?
Around one in three people who are infected with COVID-19 have no symptoms so could be spreading the disease without knowing it. Broadening testing to identify those with COVID-19, but showing no symptoms, will mean finding positive cases more quickly, and break chains of transmission. With its targeted approach, community testing aims to reduce the prevalence of the virus in the highest risk areas. We believe this testing will be vital, particularly for adults in our community who cannot work from home.
For Information: www.broxtowe.gov.uk/communitytesting
---
Hands. Face. Space. Fresh Air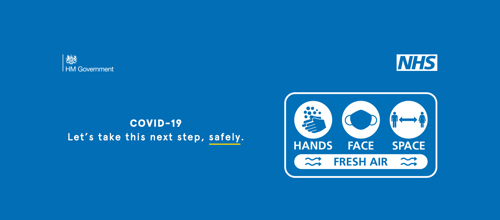 The 'Hands. Face. Space. Fresh Air' campaign urges the public to adopt simple health behaviours and work together to keep their distance and control the spread of Covid-19. It outlines to the public, the positive impact of fresh air on reducing the risk of transmission and reminds people to 'take this next step safely' as we gradually emerge from lockdown. This is in addition to the previous Hands.Face.Space messaging.
Research shows the risk of infection is significantly lower in fresh air than indoors. You may notice information being shared about the campaign on TV, radio, press, digital, out of home advertising and social media from 29th March onwards.
Businesses can now download and print posters (links below) to display in their windows and inside premises, to promote safety measures which the campaign looks to highlight, and by extension compliance of the rules for visiting businesses.
Hands.Face.Space.Fresh Air resources
Download Poster - For More Advice, a4 PDF format (Opens in a new window)
Download Poster - Got Symptoms? a4 PDF format (Opens in a new window)
Download Poster - Hand Washing Poster placeholder (Opens in a new window)
Download Poster - Thanks for wearing a face covering, a4 PDF format (Opens in a new window)
Download Poster - Leave Space, a4 PDF format (Opens in a new window)
Further information on the campaign can be found on the Government website - New Hands.Face.Space. Fresh Air Campaign (Opens in a New Window).
---
Mandatory Face Coverings
It is now mandatory for face coverings to be worn:
whilst travelling on all public transport,
within the transport hubs (including rail and tram stations and terminals),

taxis and private hire vehicles

by all staff, customers and visitors in all retail shops that are permitted to be open (including supermarkets),
by all staff in hospitality premises (including bars, pubs, restaurants, cafes), where those businesses are currently operating as a Takeaway, Click-and-Collect, Drive-through or deliveries only.
by all customers visiting hospitality premises 

(including bars, pubs, restaurants, cafes), where those businesses are currently operating as a Takeaway or Click-and-Collect.

post offices, banks, building societies, high-street solicitors and accountants, credit unions, short-term loan providers, savings clubs and money service businesses,
premises providing veterinary services,
libraries and public reading rooms (where still permitted to open),
places of worship (where still permitted to open),
funeral service providers (funeral homes, crematoria and burial ground chapels),
community centres, youth centres and social clubs,
You should also wear a face covering in any indoor place not listed above, where social distancing may be difficult and where you will come into contact with people you do not normally meet.
There are exemptions for children under 11 years old, people with breathing difficulties and people with a disability. The minimum fine for not complying with the mandatory wearing of face covering, will be increased to £200. Wearing a face covering in a shop, supermarket or other setting, will be in addition to any other Covid safety instructions or changes to how a business may be operating to remain Covid-secure.
Face covering resources
For further details including full list of the different settings where face coverings are now mandatory and exemptions,  View the Government's guidance on face coverings (Opens in a new window). 
---
Reporting a non-compliant business
If you witness or are made aware of any businesses not complying with the latest COVID-19 restrictions, including trading in a manner that is not currently permitted, please make us aware by emailing - health@broxtowe.gov.uk
Businesses found not to comply with the law, will be liable for a fine. Covid-19 Information Officers and the Public Protection team are working with businesses to ensure they are aware of the current trading restrictions, offering advice and support to ensure full compliance.
---
Financial support for businesses
Further details of the various grant support schemes available to businesses, which have been affected by local and national restrictions, are now published on our 'Support for Business' webpage.
---
Supporting businesses through the 'Re-opening the High Street Safely Fund' (RHSSF)
COVID-19 Information Officers
The Council's COVID-19 Information Officers Janice and Zahid, have been working hard to help local businesses re-open safely. They have assisted businesses to implement strict health and safety measures and keep customers safe whilst using their services. Measures they have helped businesses introduce include:
Determining a suitable maximum capacity in premises (to give customers plenty of space),
Mandatory face coverings worn by staff (including help with supplies),
Leave space, face covering and clean hands reminder posters in shop windows, 
Hand sanitiser and hand washing facilities (where possible),
Contact Tracing processes,
Further general advice and guidance to reflect the latest Government guidance.
Our Information Officers are here to help and can be seen around our high streets, keeping businesses and customers as safe as possible. 
---
Guidance for residents
Please visit our main Coronavirus (COVID-19) webpage for further details, to include further national restriction information.
You can see the full detail of the latest restrictions on the Government website (Opens in a New Window).
---
Staying up to date
The easiest way to stay up to date with the Council's updates is:
Further information
---
Crimestoppers
tel: 0800 555 111
Broxtowe Borough Council
tel: 0115 917 7777
---