Domestic Violence and Abuse
Information on Domestic Violence and Abuse Services in Broxtowe.
Domestic abuse isn't just physical. It's about someone you know trying to control your life. This could be a partner, ex-partner, or someone in the family. It can be financial, psychological, emotional or sexual.  Living with it can affect long term wellbeing and self-esteem and if children are living in the same house, they will be affected too.
Anyone can be abused, regardless of their social background, age, gender, religion, sexuality or ethnicity. In issues of Honour Based Violence and Female Genital Mutilation, the abuser(s) seek to justify what they are doing for reasons of family honour, culture or traditions.
Read our guide to recognising and responding to abuse (.pdf) (668KB) (Opens in a New Window) to learn more about domestic violence, the signs of abuse and about local services that can help you and your family.
---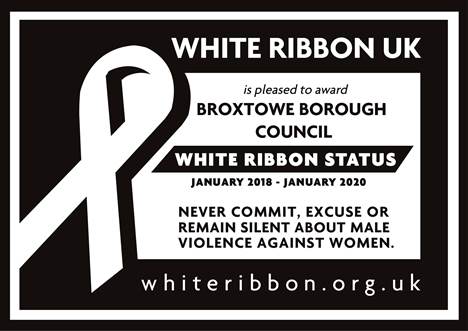 White Ribbon Campaign
Broxtowe Borough Council is a White Ribbon Accredited local authority, working to end male violence against women. We're helping to promote the message that men must never excuse, commit or remain silent about male violence against women.
At Broxtowe Borough Council, we have developed an action plan which includes working with local sports groups and music venues to raise awareness of Domestic Abuse and the White Ribbon Campaign.  We continue to raise awareness of the White Ribbon Campaign and will be encouraging employees, elected members and partnership organisations to take the pledge and wear the White Ribbon in support of this campaign. 
To add your name to the list of pledges please visit the White Ribbon website. (Opens in a New Window)
---
Domestic Abuse Services in Broxtowe
1 in 4 women are affected by domestic abuse in their lifetime and each week at least 2 women are killed by their partner or ex-partner. 
Don't suffer in silence – there are services and support available to women, men and families affected by Domestic Abuse.
List of Domestic Abuse Services in Broxtowe

| Service | Description | Phone Number | Website |
| --- | --- | --- | --- |
| Juno Women's Aid (Formerly WAIS) | One-stop shop for all women and children affected by Domestic Abuse  | 0808 800 0340 | |
| Broxtowe Women's Project (BWP) | Support and advice service for women and their families living in the borough of Broxtowe | 01773 719 111 | |
| Midland Women's Aid  | Refuge, advice and support services for women experiencing or affected by Domestic Abuse | 0300 302 0035 | |
| Men's Advice Line and Enquiries | Information, support and advice to men experiencing Domestic Abuse | 0808 801 0327 | |
National sources of help and advice with domestic abuse and signposting
If you are experiencing violence or abuse in a same-sex relationship you can call Broken Rainbow on 0300 999 5428 (National Helpline)

Forced Marriage Unit - Phone +44 (0) 20 7008 0151
---
Housing Options and Homelessness
If you feel you are at risk of harm there are alternatives you could explore such as the Sanctuary Scheme, which can carry out safety works in your home such as changing locks, fireproof letterboxes and panic rooms. Call Broxtowe Council's Housing Options Team on 0115 917 7777 for further information.
If however, you think you need leave your home, try to arrange temporary housing from the council before you leave. Not everyone leaving home due to violence is entitled to emergency accommodation. If you are a woman leaving domestic abuse, try to find a place in a women's refuge. WAIS can help you with this. Take some essentials with you such as a change of clothes, toiletries and any medication you need to take regularly. Try to bring important items such as your passport, bank and credit cards and mobile phone.
Do not make a decision to give up your home permanently until you have spoken to an adviser and considered all your options.
You can apply to our Housing Options Team as a homeless person if you cannot stay in your home. The council has to give you advice about finding somewhere to live. Some people are entitled to emergency accommodation. If the council has a duty to find you somewhere to live, you will be asked to provide details of your situation. You may be asked for supporting evidence, which could include details and dates of incidents. You can take a friend or an adviser with you for support.
The Housing Options service confirms whatever you discuss with the service will always remain completely confidential.
---
---