White Ribbon Campaign
Broxtowe Borough Council is a White Ribbon Accredited local authority, working to end male violence against women. We're helping to promote the message that men must never excuse, commit or remain silent about male violence against women.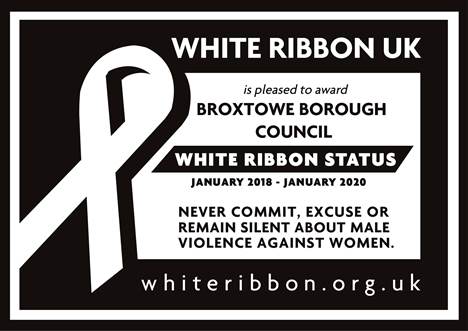 Male violence towards women is shockingly prevalent, and we can only change society by promoting a message of respect and tolerance, and leading by example.
The White Ribbon Campaign is the largest global effort of men working to end male violence against women. We aim to educate and raise awareness of violence against women, and to engage men in these issues.
What does it mean to wear a white ribbon?
Wearing a white ribbon is a personal pledge to never commit, condone or remain silent about violence against women.
Each year, men and boys are encouraged to wear a white ribbon for ten days, starting on 25 November, the International Day for the eradication of Violence against Women.
By pledging, you will be added to the growing number of men who want to 'call time' on domestic abuse towards women.  In doing this you stand shoulder to shoulder with prominent sportsmen, local celebrities, industry leaders and thousands of other men around the world who are strongly opposed to abuse against women.
At Broxtowe Borough Council, we have developed an action plan which includes working with local sports groups and music venues to raise awareness of Domestic Abuse and the White Ribbon Campaign.  We continue to raise awareness of the White Ribbon Campaign and will be encouraging employees, elected members and partnership organisations to take the pledge and wear the White Ribbon in support of this campaign. 
To add your name to the list of pledges please visit the White Ribbon website. (Opens in a New Window)
 Domestic Abuse Services in Broxtowe
1 in 4 women are affected by domestic abuse in their lifetime and each week at least 2 women are killed by their partner or ex-partner. 
Don't suffer in silence – there are services and support available to women, men and families affected by Domestic Abuse.
List of Domestic Abuse Services in Broxtowe
Service
Description
Phone Number
Website
Women's Aid Integrated Services
(WAIS)

One-stop shop for all women and children affected by Domestic Abuse 

0808 800 0340

Broxtowe Women's Project (BWP)

Support and advice service for women and their families living in the borough of Broxtowe

01773 719 111

Midland Women's Aid 

Refuge, advice and support services for women experiencing or affected by Domestic Abuse

0300 302 0035

Men's Advice Line and Enquiries

Information, support and advice to men experiencing Domestic Abuse

0808 801 0327
---
---