Halloween
A brief guide to how to enjoy Halloween safely and responsibly.
Halloween can be a fun evening of ghosts and ghouls, but there is often a lot of anti-social behaviour that is associated with Halloween.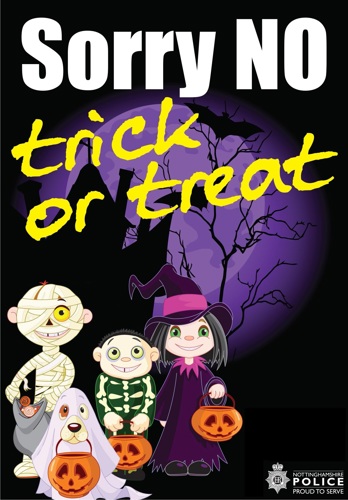 Top Tips
Broxtowe Borough Council wants everyone to be able to enjoy the evening and so we have a series of top tips for trick or treaters to help keep themselves and others safe:
Children should always go trick or treating with an adult;
Stay in areas that are well-lit with streetlights;
Do not knock on doors where there is a 'No Trick or Treat' sign;
Do not enter any house – always stay on the doorstep;
Be considerate – do not frighten vulnerable people, especially the elderly; and
Do not throw items like eggs and flour - this is not a trick and can be classed as criminal damage or even assault.
No Trick or Treat
Some people do not wish to partake in Trick or Treat and that is why 'No Trick or Treat' door and window cards will be available for free from various locations in the borough, including the Council Offices in Beeston, libraries, and police stations. 
Download the Sorry No Trick or Treat Poster (.pdf) (462KB) (Opens in a New Window)
If you do not wish for trick or treaters to knock at your door, please put up one of these cards in your window or door. For those out trick or treating, please do not knock on the doors of those with 'No Trick of Treat' signs.
Most importantly, stay safe and have fun!
Happy Halloween!
---
---