Healthier Options Takeaway (HOT) Merit
Healthier Options Takeaway (HOT) Merit
Broxtowe Borough Council are working with and encouraging businesses to provide healthier food options on their menus and help customers manage their weight.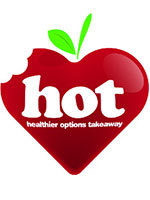 We are implementing a Healthier Options Takeaway (HOT) Merit scheme in conjunction with Nottinghamshire County Council and the other district Council's within Nottinghamshire, where you can apply for a Merit award if you are a take away business that has a food hygiene rating of 3 or above.
The HOT Merit aims to increase accessibility and awareness of healthier options in takeaway outlets and forms part of our approach to reduce obesity within Nottinghamshire.
Many takeaways, restaurants, cafes and coffee shops already offer healthier options for their customers and display information about this on their menus. Other food outlets may offer healthier options, without realising or promoting it. Takeaways will be scored on how they already sell and promote healthier alternatives, and are being asked to make at least three new pledges to make changes to their menu or practices. There are lots of simple steps businesses can make without compromising on taste, for example:
Offering to grill, bake, poach or steam food instead of frying it,

Removing salt from tables and counters,

Switching to whole grain pasta, brown rice or whole grain bread,

Offering a vegetable side or salad as part of a meal option,

Switching from double cream to single cream, yoghurt or half fat cream fraiche in recipes,

Promoting water or low sugar drinks, or

Offering smaller portion options for adults
Making small changes to what is offered or how food is prepared, cooked or served, takeaways can offer more choice for their customers.
This merit recognises those takeaways offering healthier options and implementing small changes to their menus. By achieving the merit, your business will be seen to be committed to supporting local communities to lead healthier lives. Other benefits include:
Increasing customer choice.

Increasing customer satisfaction and sales.

Enhancing reputation of the business.

Receiving a certificate and promotional material to display in premises.

Recognition of achievement through being added to an online database on the Nottinghamshire county Council website.
Eligibility
Any business, who offers takeaway food in Broxtowe, with a food hygiene rating of 3 or more, is eligible to apply.
The merit will last for one year, or before if the takeaway has a change of owner or cuisine. Broxtowe Borough Council has the right to remove the merit if the food hygiene rating falls below 3.
There is no cost for applying for the merit.
How to apply
Please download a self-assessment form (.doc) (1.78MB) (Opens in a New Window) from the Nottinghamshire County Council website and fill out the form using the downloadable guidance (.pdf) (248KB) (Opens in a New Window) and examples for the criteria.
There are six sections of the self-assessment form and in each section all questions need to be completed. Please provide comments to help us understand how exactly you are meeting the criteria, this might be examples of what you do or changes you have made. Please attach any copies of menus you may have to the form.
Once completed please send the form to health@broxtowe.gov.uk
---
---