Back to Resident Involvement
Decision Making Involvement
Decision Making Involvement
Decision Making Involvement allows you to work with officers to make recommendations on how services can be developed, using information gathered through other involvement opportunities.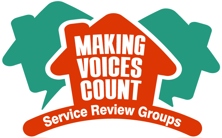 Service Review Groups scrutinise performance of the services provided to our residents.  The groups are chaired by residents and are supported by the lead officer for the service area.  These groups use a wide range of information to identify and make recommendations on how services can be developed for the benefit of all residents.  The following groups are in place:
Resident Involvement Group (RIG)

Homes Group

Neighbourhoods Group 
Housing Performance Group is a working group of tenants and Councillors who monitor progress against the Housing Revenue Account Business Plan.  The group make recommendations, which are fed into the Council's decision making process and will ask Service Review Groups to look at areas in detail to help guide their recommendations.  The group is supported by the Head of Housing and Head of Financial Services.
---
---