Mediation Service
Issues with neighbours?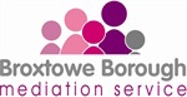 We all have neighbours some more friendly than others, but problems can occur. If you are in any kind of dispute with your neighbours - whether it's over kids playing, noise, dogs etc. You may have thought "I'll ignore it", or "It'll go away" or you may just suffer in silence.
Many people also feel uncomfortable that they haven't resolved the problem themselves, but it is easy for small misunderstandings to grow into big misunderstandings. However, you no longer need to deal with the problem on your own. Broxtowe Borough Mediation Service exists for this very reason.
You don't have to like your neighbours, but you do have to live near them.
---
What is Mediation?
Mediation is a way of solving problems between neighbours.  Trained mediators listen and talk to the people involved.  They do not take sides or judge anybody, but aim to help neighbours reach an agreement that works for everyone.
How does it work?
First, we speak with you to find out more about the problem and what you would like to happen. Only then with your permission do we contact your neighbour to arrange a similar conversation with them. If you are both willing, mediation can take place in your own home or at an alternative venue. 
The service is FREE to Council Tenants and their neighbours who live within the borough of Broxtowe.
Mediation is...
Free

Impartial

Independent

Confidential
If you need support, complete the Mediation Referral Form (Opens in a New Window)
---
Community Mediation Training Courses

 Interested in becoming a mediator? - Our training is free if you volunteer to complete at least five mediation cases.
We facilitate a course in COMMUNITY MEDIATION SKILLS accredited by Open College Network London - National awarding organisation & access validating agency.
The programme develops skills, qualities and knowledge so that participants are equipped to carry out all aspects of community mediation work.
Please gives us a call on 0115 917 3736 or email us at mediation@broxtowe.gov.uk to discuss. 
We look forward to speaking to you! 
---
Frequently Asked Questions
In 20 years the service has dealt with over 1600 cases, with many more enquiries and appeals for assistance. This in turn means that we have dealt with over 3000 residents within the borough of Broxtowe.
Over these 20 years we have come across a few frequently asked questions and we would like to take this opportunity to answer a few. 
Q: What is Mediation?
A:  Mediation is where two or more parties in dispute invite an impartial third party to help them find a resolution.
Q: Why Mediation?
A: Mediation is a non-confrontational and constructive approach for neighbours with issues.
Q: Who can use Broxtowe Borough Mediation Service?
A: The service is FREE to Council Tenants and their neighbours who live within the borough of Broxtowe.
Q: What kind of disputes does Broxtowe Mediation Services deal with?
A: Noise, Boundary's, hedges, harassment, and verbal abuse. We will consider any issues you raise.
Q: What is the role of the Mediator?
A: The mediator will sensitively listen, help you explore your concerns and exchange agreed information. Mediators will use shuttle mediation with your neighbour to help everyone understand each other's issues, before considering the need for a face to face meeting. Mediators use neighbours suggestions to work towards a realistic agreement, they can both live with.
Q:  What are the benefits of Mediation?
A: It gives residents a choice in how they deal with conflict. It works for residents who want a say in the way in which they live with their neighbours. You volunteer to take part, the whole process is confidential, our mediators remain impartial and the service is independent of any other authority.
Q: Do we have to sit in the same room as our neighbours?
A: One of the misconceptions that many people have with mediation is that we all have to sit together, but this is not the case. We tailor our mediation process to suit the parties involved.
Q: What is Shuttle Mediation?
A: As you would imagine, like a shuttle we go between parties clarifying issues and helping them look for common ground.
Q: Can We Enforce Legislation?
A: No, we offer an alternative to enforcement action; we help you find the right agreement for you.
---
---