Cycling
Information relating to Cycling including routes throughout Broxtowe.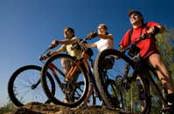 Benefits of Cycling
There are many benefits of cycling. Cycling can improve your health, keep you fit, help to reduce the risk of cardiovascular disease and help you to lose weight. It's also good for the environment and it can save you money on transport costs. Cycling really is a great activity for the whole family.
Cycling Hints, Tips, Routes and Information
There are lots of places to cycle and lots of tips to get you started on this page such as free cycle training and group rides. Explore the links listed in the 'Offsite Links' section and documents to find out more.
Discover Trails in Broxtowe
Two fantastic trails in Broxtowe you can cycle cover approximately  the whole of the boroughs boundary about 40 miles. They are the Erewash Valley Trail and Broxtowe Country Trail. They take your along canal paths, to locks, through woodlands, nature sites, sites of interest, the River Trent, places for refreshments  and more.  They are signed and have plenty of short cuts and circular routes you can follow. See the leaflets on this page you can download. If you need copies of the leaflets contact us.
---
Broxtowe Cycle Routes
If you would like a cycle map  for Broxtowe Borough area either pick one up from the Council Offices Beeston, and Bramcote/Kimberley/Chilwell Leisure Centres  or contact the Energy and Sustainability team and we will send a map to you. The  'Nottingham Cycle Map' (Opens in a New Window) is an interactive map showing the Gedling, Nottingham City and Broxtowe area cycling maps.
---
Let's Ride Cycle Rides - Social Cycle Rides across the Country
Various Days, Venues and Times.
Let's Ride offer friendly guided rides led by qualified British Cycling Leaders. Rides are free of charge and grouped to suit beginner and experienced cyclists. With different intensities and different routes, there's something for everyone through Let's Ride. Whether you're building your confidence or already comfortable on a bike, there will be a ride for you!
Participants will need their own roadworthy bike and a helmet.
Under 16's are welcome on some rides, but must be accompanied by an adult at all times.
Find out what Social Rides are taking place this month on Let's Ride.(Opens in a New Window)
---
Take Pride in Your Ride
In Partnership with the Nottinghamshire Police Crime Prevention Team, Broxtowe Borough Partnership are trying to encourage everyone to keep your ride safe and secure.
Bicycles are often targeted by thieves because they are left poorly secured or not secured at all. It takes just a few seconds for the opportunist thief to steal a bike that is left unsecured.
Follow the advice from Nottinghamshire Police to secure your bike.(Opens in a New Window)
---
RideWise
tel: 0115 955 2288
Energy & Sustainability
tel: 0115 917 3742
---