Colliers Wood
Colliers Wood is situated on Engine Lane in Eastwood (near to Moorgreen) as was the former site of Moorgreen Pit. Today the area is open to the public and its beauty attracts local walkers as well as an array of local wildlife.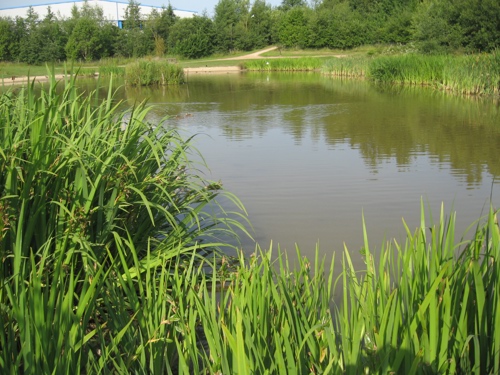 Colliers Wood, created on the site of the former Moorgreen Colliery, is a community woodland which forms part of the Greenwood Community Forest in Nottinghamshire. It is also an important element of the Eastwood Phoenix Project, a local regeneration scheme. The wood has been designed to restore the woodlands and fields which existed before the mine was developed. The woodland and the adjoining industrial land were created through a restoration scheme during 1996-1997.
The site was seeded with wild grasses and flowers. Hedgerows and thousands of trees were planted and two ponds created which will become valuable habitats for wildlife. An extensive footpath network has been created using reclaimed shale from the site.
The Friends of Colliers Wood was established in 1999 following the opening of Colliers Wood. In this time the Friends of Colliers Wood have been dedicated to enhancing the public facility for the beneficial use of local communities. This has included involvement in tree planting projects, sponsored dog walks on the site, maintenance of areas, litter picking and working with local school groups.
 In Summer 2008 the open space was awarded its first Green Flag in recognition of the high standards of maintenance, community involvement, sustainable working practices and the open spaces heritage value. The award has been retained every year since.
Membership - Become a Friend of Colliers Wood
Membership to the group is free for all and is open to everyone, of all ages, who has an interest in these local landscapes. This friendly group meet the second Wednesday of the month (except December) at Greasley sports and Community centre, Dovecote Road, Newthorpe,NG16 3QN form 7.15pm until 9.15pm
We Need You!
The Friends of Colliers Wood are looking for new members for the group to help with the valuable work of looking after this unique developing woodland area and assist with their ever-expanding programme of events and activities. To get involved please visit The Friends of Colliers Wood website. (Opens in a New Window)
Auditorium
The auditorium has been created to provide a community resource for everyone to enjoy. We are inviting any club, group or community organisation who wants to use this open-air forum for an event, to contact the Friends.
Getting involved
There are several ways in which you can help maintain and preserve this unique site:
Take part in Friend's tree planting, litter picking and mulching days

Observe and report damage to the site to the Borough Council.

Assist with site recordings by taking regular notes and photographs of local species of plants and wildlife on the site

Volunteer for or take part in the Friend's annual Dog show, Christmas Woodland Celebrations or fundraising events.

Become a Friend of Collier's Wood

Use and enjoy the site! 
Moorgreen Colliery
Moorgreen Colliery was sunk by the Barber Walker Company in 1868 and was one of five pits owned by the family in the area. Two shafts were sunk and coal production commenced in 1871. Production continued to increase to a maximum of 1,000,000 tons in 1963. Thereafter manpower and production were gradually decreased until by 1985 the seams had been exhausted and the colliery was finally closed. This was followed by the closure of the associated workshops and training centre in 1987.
---
Landscape and Literature
The nearby town of Eastwood has long been associated with the literary figure of D.H. Lawrence who was born there in 1885. Lawrence's father, a miner worked at his native Brinsley, the sister pit of Moorgreen. Lawrence used local characters and events as a source for many of his books and described the landscape of the area as 'the country of my heart'. In his novel 'Sons and Lovers', Lawrence renamed Moorgreen, Minton pit, which he described as a 'large mine among cornfields'.
---
Woodlands
The trees in Colliers Wood will show the characteristics of local woodlands which are usually dominated by Sessile Oak and growing with Birch and Alder. Other species such as Hazel, Rowan, Willow and Scots Pine are also found, beneath which Hawthorn, Guelder Rose, Dog Rose and Holly grow. Open glades have also been created where other plants will grow. In a young wood, the developing trees and glades will provide ideal habitants for a wide range of plants, animals and insects. Mammals such as voles, rabbits, foxes and hares live in the wood. Migrant birds such as Field Fares and Gold Finches and resident species such as Meadow Pipit, Sky Lark, Tawny Owl and Kestrel can also be found here.
---
Ponds and Wetlands
At one time ponds were a common feature in the countryside serving farms and villages. Many birds, insects, amphibians and mammals rely on ponds for food, shelter and nesting places. A large number of ponds have been lost and therefore the creation of new ponds is important. The two ponds at Colliers Wood have different depths of water to encourage a greater variety of plants to grow around them and more wildlife to use them. 
Around the margins of the ponds are wetlands areas where different plants will grow. Shrubs and trees such as Willow and Alder will grow at the top of the bank, while further down, plants such as water mint and yellow flag iris thrive. In the shallows, emergent plants such as reeds and rushes grow. In the deeper water, floating plants such as water lilies have established and anchor themselves to the bottom of the pond by stems and roots.
---
Trails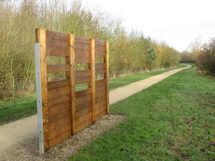 Barber Trail
1.7km - 35 to 50 minutes
This trail takes you alongside the woodlands, hedgerows and meadows of the site and provides views of neighbouring fields before returning to the main pond via Engine Lane's avenue of Limes. Listen out for Willow Warblers and Chiffchaffs in the Spring or Goldfinches feeding in the Autumn.  Gatekeeper or Speckled Wood butterflies may be seen along the trail in Summer.  With links to other public footpaths it can easily form part of a longer walk.  Please note Engine Lane is a public highway adjacent to the site.
Walker Trail
1km - 20 to 30 minutes
A short circular walk that takes you to the pond and dipping platform, up through the meadows and past the woodlands.  Look out for House Martins at the pond or a Skylark over the meadows in spring.  Insects such as Common Darter dragonflies may be spotted in summer.  The walk can be shortened by taking the path to the left from the car park past the auditorium.  Choosing the mown path to your left takes you across one of the meadows where you re-join a path back to the car park.
---
View the Colliers Wood Management Plan (.pdf) (9.38MB) (Opens in a New Window)
---
Parks and Environment
tel: 0115 917 7777
Nature Conservation
tel: 0115 917 3507
---