Back to Parks & Open Spaces
Fun Fairs
Fun Fairs take place across the Borough every year bringing exciting rides and games to our local parks. Here you can find out more about when and where the next Fun Fairs are coming.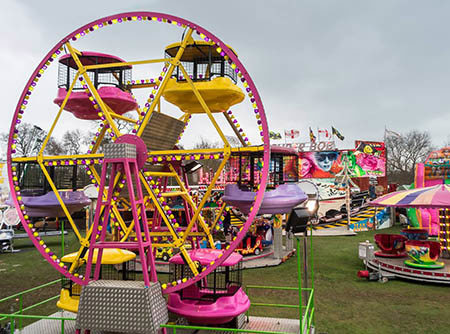 Due to the current outbreak of COVID-19 the decision has been made to cancel summer fairs in line with guidance from the government. The organiser will look to reschedule these when possible.
The bigger Fun Fairs in the Borough are all run by Michael McKean of McKean's Fun Fairs. McKean's have been running these fairs in the Borough for over ten years.
Smaller Fun Fairs take place in association with major events at the Borough's parks and recreation grounds. These include events like the Hemlock Happening which takes place every year in Bramcote Hills Park.
Other fairs are organised on private land in the borough.
Families from across the Borough come every year to enjoy all the fun of the fair, so why not head on over to your local park the next time the fair is in town.
Photo by Phil Heath Photography
Upcoming Funfairs

| Venue | Dates |
| --- | --- |
| N/A | N/A |
---
---