Fun Fairs
Fun Fairs take place across the Borough bringing exciting rides and games to our local parks. Here you can find out more about when and where the next Fun Fairs are coming.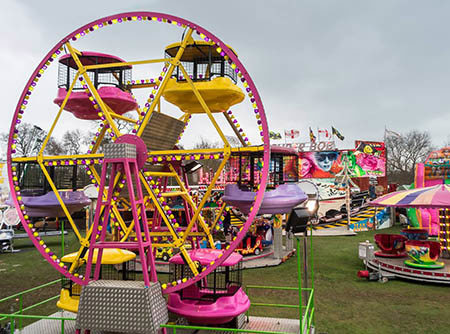 The bigger Fun Fairs in the Borough are all run by Michael McKean of McKean's Fun Fairs. McKean's have been running these fairs in the Borough for over 10 years.
Smaller Fun Fairs take place in association with major events at the Borough's parks and recreation grounds. These included events like the Hemlock Happening which takes place in Bramcote Hills Park.
Other fairs are organised on private land in the Borough.
Families across the Borough come every year to enjoy all the fun of the fair, so why not head on over to your local park next time the fair is in town.
Photo by Phil Heath Photography.
Upcoming Funfairs
Venue
Dates for 2023

Dovecote Lane Recreation Ground, Beeston

        Thursday 27 April – Monday 1 May (5 days)

        Opening Times 6pm -9.30pm Thursday/Friday

        1.30pm – 9.30pm Saturday/Monday and 1.30pm – 8pm Sunday

Bramcote Hills Park, Bramcote

        Thursday 6 April – Sunday 16 April (11 days)

        Opening Times: 1.30pm – 8pm Sunday, all other days 1.30pm – 9.30pm

        Friday 24 August – Monday 28 August (5 days)

        Opening Times: 1.30pm – 8pm Sunday, all other days 1.30pm – 9.30pm

Inham Nook Recreation Ground, Chilwell

        Thursday 8 June – Sunday 11 June (4 days)

        Opening Times: 6pm – 9.30pm Thursday/Friday, 1.30pm – 9.30pm

        Saturday 1.30pm – 8pm Sunday

Jubilee Park, Eastwood

        Thursday 20 April – Sunday 23 April (4 days)

        Opening Times: 6pm – 9.30pm Thursday/Friday, 1.30pm – 9.30pm

        Saturday 1.30pm – 8pm Sunday

        Thursday 7 September – Sunday 10 September (4 days)

        Opening Times: 6pm – 9.30pm Thursday/Friday, 1.30pm – 9.30pm

        Saturday, 1.30pm – 8pm Sunday
---
---