Geocaching
Do you fancy discovering the great outdoors with a difference? Broxtowe Borough Council has set up four geocaches to encourage people to explore the borough's parks, open spaces, countryside and heritage.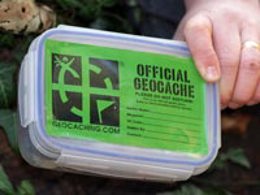 What is geocaching?
Geocaching is a high-tech, outdoor treasure hunting game where participants ('geocachers') use a Global Positioning System (GPS) receiver or other navigational technique to hide and seek containers ('geocaches' or 'caches').
A typical cache is a small waterproof container containing a logbook, pen and 'treasure' - usually toys or trinkets of little value.
Geocaching in Broxtowe
Hidden in various places throughout the borough are over 100 containers that are waiting to be found by anyone with a GPS device.
Broxtowe Borough Council has also set up four geocaches of its own in the borough's four designated Queen Elizabeth II fields at:
The four cache sites were nominated as part of the Queen Elizabeth Fields Challenge, which aims to protect designated recreational spaces for communities as a permanent living legacy of the Queen's Diamond Jubilee.
You can also track the Council's 'Brock the Badger' geocoin (Ref: TBNMTT) at Geocaching.com by using the offsite below.
How to find a geocache?
Register for a free basic membership at Geocaching.com (Offsite link below).

Visit the 'Hide & Seek a Cache' page (Offsite link below).

Enter your postal code and click "search."

Choose any geocache from the list and click on its name.

Enter the coordinates of the geocache into your GPS Device.

Use your GPS device to assist you in finding the hidden geocache.

Sign the logbook and return the geocache to its original location.

Share your geocaching stories and photos online.
The rules of geocaching
If you take something from the cache, leave something of equal or greater value.

Write about your find in the cache logbook.

Log your experience at Geocaching.com.
---
---