Chilwell Parks and Open Spaces
Chilwell Parks and Open Spaces
List of Parks, Recreation Grounds, Open Spaces, and Play Areas in Chilwell managed by Broxtowe Borough Council.
The facilities are checked and inspected regularly and maintained to a high standard.  Should you however find any problems could you please report them to the Council to enable us to take corrective action and maintain the quality standards.
If you'd like to hire one of the parks and recreation grounds please complete one of the forms:
Broxtowe children are set to reap the rewards of Broxtowe Borough Council's new Play Strategy with new funding being allocated to improve local play facilities. Find out more in the Broxtowe Borough Council Play Strategy 2017 - 2025. (.pdf) (2.22MB) (Opens in a New Window)
---
Cator Lane
Information regarding Cator Lane
Key
Information
Park

Cator Lane

Address

Cator Lane, Chilwell, NG9 4AY

Facilities

Play Area

Kickabout/Basketball

Description

A relatively small local area with a mix of tree planting and open grassland. A new circular path provides good access around the site.
---
Chetwynd Road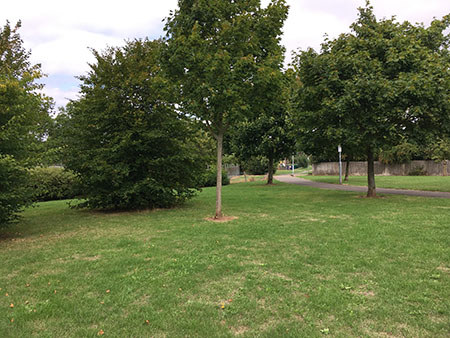 Information regarding Chetwynd Road

| Key | Information |
| --- | --- |
| Park | Chetwynd Road |
| Address | Chetwynd Road, Thompson Close, Chilwell, NG9 5GF |
| Facilities | |
| Description | A small local facility with a mixture of grassland areas, trees and shrubs. The surfaced footpaths are popular links to the adjacent housing areas and shops. |
---
Inham Nook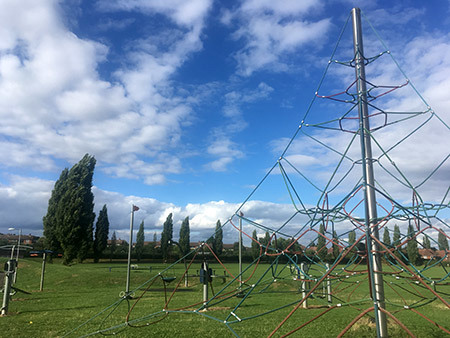 Information regarding Inham Nook
Key
Information
Park

Inham Nook

Address

Inham Nook, Pearson Avenue, Chilwell, NG9 4GQ

Facilities

Pavilion

2 Senior Football Pitches

Bowling Green

Cricket Square

2 Hard Tennis Courts

Play Area

Kickabout/Basketball 

Description

Part of a long network of Open Spaces running from Bramcote Lane to Field Lane. The Erewash Valley Trail runs through the park. This park has undergone major improvements as part of the NET project with a new play area, skate park, kickabout/basketball area, tennis courts and outdoor fitness equipment.
---
Sherman Drive Open Space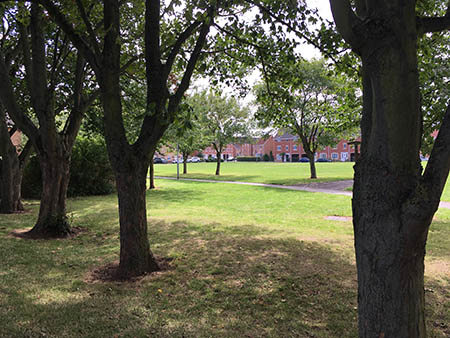 Information regarding Sherman Drive Open Space
Key
Information
Park

Sherman Drive Open Space

Address

Sherman Drive Open Space, Chilwell

Facilities

Play Area

Mini Football Pitches

Kickabout/Basketball 

Description

Originally part of the open space within the Chetwynd Barracks Site.  This large area of open space has a mixture of mature trees and new tree planting together with an informal network of surfaced paths providing good access from various points within the housing development.  It contains a children's play area and multi-use games area together with a small informal football pitch.
---
---