Pride in Parks
Information on the work complete relating to Broxtowe's Pride in Parks initiative.

In March 2018, Broxtowe Borough Council approved £500,000 worth of investment in Broxtowe's parks and open spaces.  £250,000 was approved for 2018/19, with an additional £250,000 approved for 2019/20. Each year £125,000 is being allocated to making improvements to Council owned play areas which have been identified as high priority, while the over £125,000 is shared among the Town and Parish Councils who maintain their own parks to help improve their facilities.
Upcoming Projects
King George's Park, Bramcote
Sherman Drive Open Space, Chilwell
Hall Om Wong, Kimberley
Hickings Lane Recreation Ground, Stapleford
Children and young people in the town are set to get the new, state of the art facilities thanks to £93,000 from WREN's FCC Community Action Fund, along with a further £67,000 from Broxtowe Borough Council's Pride in Parks scheme.
Chair of the Leisure and Environment Committee, Councillor Shane Easom said: "This is the most ambitious project in our Pride in Parks scheme so far and everyone at the Council is very excited about starting work in the new year, once ground conditions are suitable. I hope local residents in Stapleford will be looking forward to seeing the finished facilities once they are completed."
Find out more about the upcoming renovation of Hickings Lane Recreation Ground. 
Greasley Jubilee Park, Greasley
The play area at the park on Dovecote Road, Greasley, closed on 19th December 2018 prior to its full refurbishment in 2019 using funding from Broxtowe Borough Council's Pride in Parks Scheme.
---
Completed Projects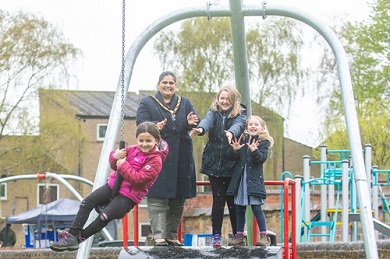 Broadgate Park, Beeston
In May 2018, Broadgate Park was refurbished using £5,000 of Pride in Parks funding alongside contributions from WREN (Waste Recycling Environmental), United Living North, Vinshire North and Tesco Bags of Help. It now features sand and water play tables, a giant swing, trampoline, climbing units and a 30 metre zip wire.
Find out more about the Broadgate Park's upgrades
---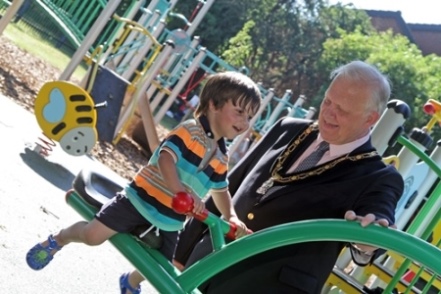 Redbridge Drive, Nuthall
In July 2018, Redbridge Drive in Nuthall re-opened following its refurbishment and was the first site to be solely funded by the Pride in Parks scheme. £47,500 worth of play area improvements were brought to the park including an extension to the play area; new equipment like a small trampoline, toddler play unit, basket swing, seesaw, and a springy; refurbished climbing units; and further improvements to the football kickabout area.
Find out more about the Redbridge Drive upgrades
---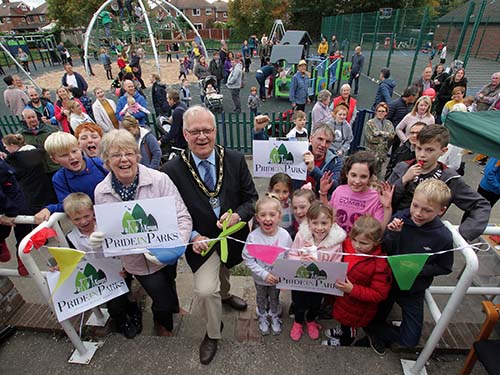 Leyton Crescent, Beeston
In October 2018, Leyton Crescent benefited from the Pride in Parks funding with the first major improvement works the play area has seen in over twenty years. As well as an £37k from the investment from the Council as part of Pride in Parks, funding was boosted by £16k from Nottinghamshire County Council's Supporting Local Communities Fund, £8k from United Living and a £50k grant from WREN'S FCC Community Action Fund. The play area now got a large multi-play unit for juniors, a multi-play unit for toddlers, traditional swings for both juniors and toddlers, a big single point swing, swing riders, and a 4-metre high play dome.
Find out more about the Leyton Crescent upgrades
---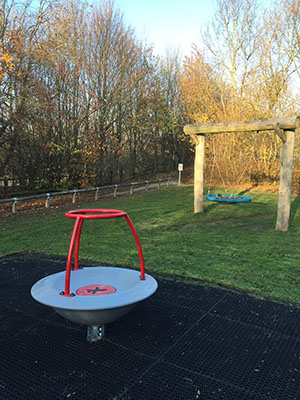 Pocket Park, Shilo Recreation Ground, Awsworth
In Awsworth, the Parish Council have installed new play equipment at Shilo Recreation Ground to the value of £5,000, including a carousel, single springer and music pipes play panel. They are now looking to improve facilities and the wetland habitat at The Lane Recreation Ground.
Chairman of Awsworth Parish Council, Councillor Graham Spencer said: "The Pride in Parks Initiative by Broxtowe Borough Council has provided us with much needed funding, allowing us to accelerate our programme of recreational improvements. We are now hoping to make improvements to The Lane Recreation ground early next year."
---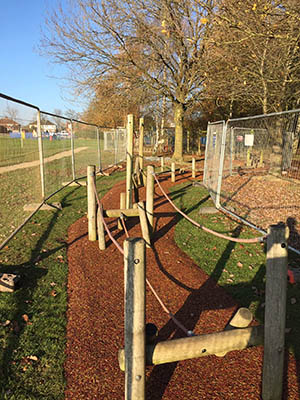 Brinsley Recreation Ground
In Brinsley, the wooden activity trail at Brinsley Recreation Ground has had new safety surfacing installed to make it a much more accessible and user friendly area.  Further works are now scheduled with £17,000 worth of improvements to the main area.
The Chairman of Brinsley Parish Council, Councillor Valerie Wakeling said: "The pathway and surfacing on the wooden activity trail is now looking superb and more user friendly. It will be nice to see the new Basket Swing installed, as this was very popular. This is in the second phase of the works and is due to commence within the next few weeks. In addition the surface in the play area is to be replaced and new safety barriers installed. The improvements are all down to the Pride in Parks initiative organised and financed by Broxtowe Borough Council. It is excellent to know our children will be safer when using the equipment due to this scheme. Thank you to Broxtowe Borough Council."
---
Mansfield Road Recreation Ground, Eastwood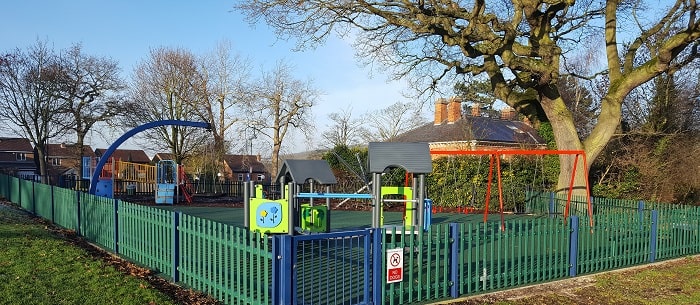 In December 2018, children in Eastwood received an early Christmas present thanks to £28,000 worth of play area improvements at Mansfield Road Recreation Ground as part of Broxtowe Borough Council's Pride in Parks Scheme.
The improvements include a new junior multi-play unit, a big basket swing and a new play unit designed specifically for younger children.
Half of the old bark surface has also been removed and replaced with rubber surfacing, making the play area more accessible and allowing little ones to play all year round on a cleaner surface.
---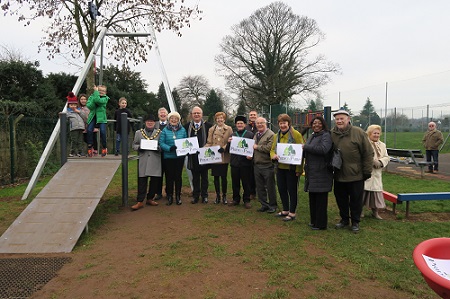 Basil Russell Playing Field, Nuthall
Local Children are now enjoying the extensive range of new play equipment at the park. The area was officially opened by the Mayor of Broxtowe on Saturday 5 January with a scheme providing over £30,000 of improvement works. This was another scheme funded by the Borough Councils Pride in Parks Initiative. The event also saw the planting of a new tree on the park to celebrate local Nuthall resident Brian Watson becoming a Freeman of the Borough.
---
Millfield Road Play Area, Kimberley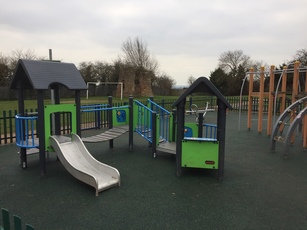 This site reopened just before Christmas 2018 with a bigger area, new surfacing,  new swings for older children and an extended range of facilities for younger children. The £20,000 for the improvement works came from the Pride in Parks scheme.
---
---