Trees & Hedges
Broxtowe Borough Council is involved with the care, protection and maintenance of trees in our area in several important ways.
---
Reporting Hedges/Dangerous Trees
You can report Hedges/Dangerous Trees online. (Opens in a New Window)
Please note the Council has a policy for trees in its ownership relating to what works we can do and when we will do the work. Please see link at the buttom of the page.
---
Trees are an integral and vital part of our environment that are just as important locally as they are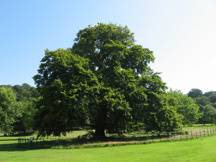 globally. 
Broxtowe Borough contains millions of trees that not only take the form of forests, woods and hedgerows in rural areas but also the trees that line our streets, populate our parks & public spaces and stand in our gardens too.
All trees are a valuable resource that provide us with oxygen, absorb pollution and carbon dioxide, inhibit the sound of traffic, make our urban environment more pleasant and add value to our properties as well as sustaining wild fauna and flora, providing a living link to the past and many other benefits.
The ways trees help us are extensive with benefits that we all probably take for granted but rarely perceive.
Nuisance Hedges
Probably the most calls we receive on any single subject are about the problems with high hedges, particularly the dreaded Leyland Cypress hedges.
Cupressocyparis leylandii - to give it its proper name, is a widely used hedging plant, well known for its evergreen habit and notoriously fast growth rate (up to 1.25m/4feet a year). When clipped regularly in the growing season it can make a fine, neat and dense hedge that offers privacy and sound suppression in a very short time compared to most other hedging plants.
But beware. It is a high maintenance plant and if neglected for even a couple of years will start to make a punishing job of looking after it. If left untended for as few as 5 years it could well be a job that only professional tree surgeons could tackle safely which, of course, may work out expensive (another reason some people choose to do nothing).
Being a hedging plant, it is most often planted along property boundaries. As a result, if the hedge is neglected, it is often the neighbouring properties that suffer the most yet can do nothing about it. In some extreme cases, people have been forced to suffer monster rows of leylandii of about 80' high. Many court cases have been fought over this subject but common law has never provided a suitable remedy, mostly due to precedents already set on similar cases in the past. Statute law, however, this has now provided remedy in the form of Anti-Social Behaviour Act 2003.
---
---