Civil Parking Enforcement / Fines
Civil Parking Enforcement / Fines
The Council adopted Civil Parking Enforcement powers for the enforcement of parking restrictions within the borough under the Traffic Management Act 2004. Civil Enforcement Officers (formally known as Traffic Wardens) are helping to improve parking and reduce congestion throughout the Borough of Broxtowe.
Why carry out Parking Enforcement?
Illegal or dangerous parking on the street (i.e. on double or single yellow lines) can cause serious problems for all road users, including pedestrians. By enforcing parking regulations by adopting Civil Enforcement powers, the Council aims to: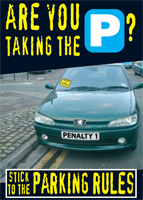 Manage the traffic network to ensure free movement of traffic, including pedestrians and cyclists;

Improve road safety;

Improve the local environment;

Improve the quality and accessibility of public transport;

Meet the needs of people with disabilities, some of whom will be unable to use public transport and depend entirely on the use of a car; and

Manage the competing demands for kerb space of residents, businesses, visitors, pedestrians, users of public transport (including buses, taxis and coaches), car drivers, cyclists and motor cyclists.
There are 2 dedicated Civil Enforcement Officers employed by the National Parking Services (NSL) working on behalf of the Borough Council tackling drivers who park illegally and without consideration for other motorists and pedestrians.
In 2013, Broxtowe Borough Council introduced a Civil Enforcement Off-Street Parking Places Order to improve parking places in the borough, with a supplementary order which came into effect in 2015. More information about both orders can be found on the Civil Enforcement Off-Street Parking Places Order page.
What if there are no restrictions on the road?
Unfortunately the council cannot enforce parking issues if there are no restrictions in place (i.e. double or single yellow lines and/or residents parking schemes, etc.).
Under these circumstances please contact:
The Police on 101 if the parking is extremely dangerous or obstructive.

Nottinghamshire County Council on 0300 500 8080 if you would like them to consider putting in yellow lines or residents parking schemes on a certain street or area.
The Police were responsible for enforcing parking restrictions but this role became the job of the County, District and Borough councils when new arrangements began on 12th May 2008.  Throughout the county, there are 20 appointed Civil Enforcement Officers.  These officers will challenge drivers who park incorrectly or without consideration for other drivers meaning the police can concentrate on fighting crime.
Dangerous Parking near Schools
Since February 2016 Nottinghamshire County Council has had a camera equipped (CCTV) enforcement car on patrol to address parking issues around schools in the Nottinghamshire area (including Broxtowe). For more information you can visit Nottinghamshire County Council's Parking Enforcement Vehicle webpage. (Opens in a New Window)
Penalty Charge Notices
A parking ticket (known as a Penalty Charge Notice) will be issued for all contraventions and will be subjected to the national differential charging policy of £70 (£35 where paid within 14 days; £105 if paid after service of charge certificate) for high level contraventions or £50 (£25 where paid within 14 days; £75 if paid after service of charge certificate) for lower level contraventions. The money collected from penalty charge notices issued will pay to run the enforcement service.
Payments and Appeals
All payments, challenges, appeals and general enquiries must be directed to Nottinghamshire

County Council's centralised processing centre. All challenges MUST be in writing either by post to Central Processing Centre, PO BOX 10282, Nottingham, NG17 0DX or using the online service. 
---
---