Broxtowe & Rushcliffe Season Tickets (Parking Permits)
Broxtowe & Rushcliffe Season Tickets (Parking Permits)
If you're regularly visiting certain car parks in the Broxtowe and Rushcliffe area, you are entitled to purchase a Season Ticket which will allow you to park without the need for a daily payment at the pay and display machines.
To apply please use the online form: Season Ticket Application. Once payment is received the actual permit is sent in the post so you can display it in your vehicle.
Season tickets can only be purchased for the car parks listed below and are subject to the Terms and Conditions of Use.
PLEASE NOTE:  Your vehicle registration number does not appear on the actual season ticket permit so the permit can be transferred between vehicles (most families have more than one these days). However, we do ask for the registration numbers of the additional vehicles (maximum of 2) as part of the application process so that we can link the permit number to these vehicles on our systems.  Additional vehicles must be all registered at the same address as the applicant.  This enables us to carry out spot checks if necessary.
Broxtowe Permits Information

| BROXTOWE Car Park Locations | Annual Season Ticket  | Quarterly Season Ticket |
| --- | --- | --- |
|  Derby Street South, Beeston | £250.00 | £70.00 |
|  Middle Street Central, Beeston | Not available (max number of permits issued) | Not available  |
|  Oxford Street, Eastwood | £150.00 | Not available  |
|  Sun Inn, Eastwood | £150.00 | Not available  |
|  Victoria Street, Kimberley | £150.00 | Not available  |
|  Halls Road, Stapleford | £150.00 | Not available  |
Rushcliffe Permits Information

|  RUSHCLIFFE Car Park Locations |  Annual season Ticket | Quarterly Season Ticket  |
| --- | --- | --- |
|  Rushcliffe Country Park | £20.00  |  Not available |
Important Information
Season ticket (parking permit) parking is only permitted where there is available parking capacity.  Many Broxtowe Borough Council and Rushcliffe Borough Council car parks operate at maximum capacity and as such are exempt from the scheme.
Season tickets for car parks in the Broxtowe and Rushcliffe areas will initially be available to all applicants, however space may be limited in some car park locations, therefore permits will be awarded on a first come first serve basis.
The season ticket (parking permit) is only valid in the car park it was issued for and up to the date of expiry shown on the permit. A season ticket (parking permit) can be requested for use in one car park only and is not transferable between car parks. If you park in any other Broxtowe/Rushcliffe Borough Council car park you will need to pay the normal public charge as advertised on site.
Application and Payment
You can make a online application via the Season Ticket Application.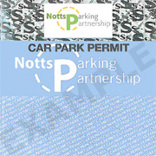 Alternatively you can complete a paper season ticket application form and return it with the appropriate payment (cash or cheque payable to "Broxtowe Borough Council") for a quarterly or annual permit. Your application will be dealt with within 5 working days.
Renewing your Permit
The online application form can also be used for permit renewals.  Responsibility for applying for the renewal of a permit rests with the permit holder to whom it was issued.  The permit may be renewed within 21 days in advance of the expiry date.  Please allow a minimum of 5 working days for renewals and/or amendments.
Residents Parking Permits
Please not that Residents Parking Permits to help residents park their vehicles in a street or area where parking is controlled by a Residents Parking Scheme (Controlled Parking Zone) can be obtained from Nottinghamshire County Council. 
---
Parking, CCTV & Security Services
tel: 0115 917 3620
---