Composting
Special Offers on Home Composters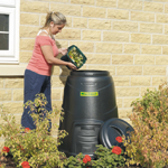 Did you know that more than 30% of the average household bin can be composted.
Home composting saves money, saves energy, saves water and provides free garden compost year after year.
For those interested in trying home composting, now is the perfect time to get started. Householders can purchase home compost bins for as little as £17.98
For further information and special offers, follow the Get Composting website link or contact Even Greener. 
---
---