Household Waste and Recycling Centres
Household Waste and Recycling Centres
Household Waste and Recycling Centres in Broxtowe are located in Beeston and Giltbrook.
Latest COVID 19 Update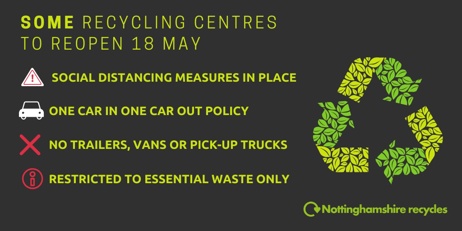 Nottinghamshire County Council is working on preparations to safely reopen six of its 12 Household Waste Recycling Centres (HWRCs) from Monday 18 May.
Broxtowe have two recycling centres which are operated by Nottinghamshire County Council.  These are based in Giltbrook and Beeston. 
The Beeston centre will open first. 
Beeston Recycling Centre
Lilac Grove
Beeston
NG9 1PF
Opening times are 10am to 6pm 7 days a week. 
Please read the following essential travel and safety guidelines for Household Waste & Recycling Centres
To ensure the safety of workers and residents, strict social distancing will be enforced and a one car in, one car out policy will be in place at all sites - no trailers, vans or pick-ups will be permitted.
Recycling centres are only open for waste that you can't store safely at home without causing a risk of injury, health or harm. No other reason for the journey would be considered a legitimate purpose.
Please continue to use kerbside waste and recycling services and hang on to any items you would normally take to recycling centres for a few more weeks. Or if there's still some life left in them, why not try selling online or compost garden waste at home.
Avoid bringing excessive amounts of waste so people  can get in and out as quickly as possible to help reduce queue times.
Be prepared to queue – fewer vehicles than usual will be allowed on-site at any one time to allow for social distancing.
Stay in your vehicle while queuing to aid with social distancing. Please do not leave your vehicle until it is necessary to get out.
Stay safe – wear protective gloves, appropriate footwear and clothing and only bring what you can safely handle as staff will not be able to help you carry your waste as they normally would.
Keep your distance – please stay at least two metres away from staff and other users.
Please do not visit if you have coronavirus symptoms in the last 14 days, are self-isolating or at high risk of contracting the virus.
Remember to wash your hands when you get home.


Reduced Service
The sites will also be running a reduced service and only the following waste can be taken:
garden waste
wood
cardboard
metals
waste electrical and electronic equipment
general waste
You are advised to only make the journey if you cannot store your waste safely at home.
For more information about the reopening of recycling centres take a look at the frequently asked questions (opens Nottinghamshire county council webpage in a new window).
Don't forget to register your details for using the recycle centres in Broxtowe.  You can do this by visiting Nottinghamshire County Councils webpage (opens a webpage new window)
---
---