Recycling Education
The Schools Waste Action Club (SWAC), is a waste education programme delivered by Nottinghamshire County Council, which is provided free of charge to primary, secondary and special needs schools throughout Nottinghamshire.
It aims are to: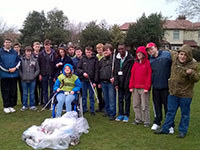 Increase awareness of waste and its management among school staff and pupils

Encourage and support schools to reduce, reuse and recycle waste

Transfer the knowledge gained by pupils and staff from working on waste at school to achieve increasingly sustainable waste management in the home
For more information please visit the Waste Action Club. (Opens in a New Window)
Waste Recovery Facility visit free for schools
Veolia are offering schools a chance to visit the MRF at Mansfield and find out what happens to the material placed in the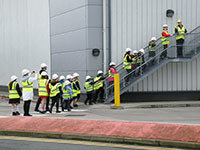 green-lidded bin. Suitable for children aged 7 and up, the informative visit uses a range of methods including films, practical activities and where possible a site tour. Veolia will even over any of the schools transport costs to the site. To find out more please use the contact details below.
Community groups
Would you and the group(s) you run or attend like a presentation on recycling? We offer a comprehensive talk on the benefits and importance of recycling, covering topics such as:
Why we should recycle our waste

What material can be placed in the green-lidded bin

What happens to the material once it has been collected?
For fun we usually finish with a quiz with prizes for the winner!!
---
---