Popular services
Waste and Recycling
The Waste and Recycling section provides a high quality service to residents throughout the Borough, working towards achieving a cleaner, greener and safer environment.
---
Changes to missed bin policy - Have your say!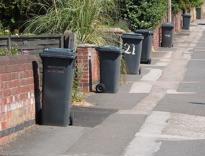 Currently the Council will return for a missed collection irrespective of the reason why the bin was not emptied. For example, the bin was not put out by the resident for collection. The current missed bins service costs the Council in the region of £100,000 per annum. 

The Council is considering changing the policy so that we will only return to empty a bin where it has been genuinely missed by the collection crew. The change in policy will enable the resources within the refuse and recycling service to be used more effectively and will also help promote responsible waste management. 

To assist the Council in the decision making process we are consulting with our residents to ascertain what impacts this change in policy would have. Please help by answering the questions on our consultation by clicking here.
---

Bin Collection calendars
Calendars. are available online. Please use the 'When is my bin collection?' service page, which will identify which calendar you need to download.   
Please present your bins for collection by 7:00am. Bin lids must be closed and no side waste will be taken.
Watch our video on how to find when your collection is
Text messaging service
You can now text 60075 to check which collection is due that week. Start the message with 'BROX NEXT' including your postcode and house number - i.e. 'BROX NEXT NG9 1AB 32', you will be sent a message back with details of your next scheduled collection.
'Each message sent is charged at the user's standard network rate although some inclusive network plans exclude messages to short codes and therefore prices may vary.'
---
---