Nature Conservation
The Council works with many organisations to deliver improvements for wildlife. Partnerships with organisations such as the Nottinghamshire Wildlife Trust have helped to enhance the diverse range of habitats and species which can be found in the Borough.
Attenborough Nature Reserve is a good example of partnership working where the council, the Wildlife Trust and the site owners CEMEX manage the site and deliver improvements. A site leaflet is available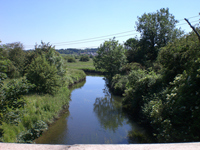 on can be obtained from either the council or the Trust.
The Public Open Spaces in Bramcote offer another opportunity to improve a very attractive area for people and wildlife and the council is working with local groups such as the Friends of Bramcote Ridge and is actively seeking new partnerships to maximize the potential of the area. The formation of the Bramcote and Stapleford Hills Open Space Forum has been a major step in bringing together a wide range of people and organisations having an interest in the area.
The Council leads the Broxtowe Wildlife Forum which brings together over 40 environmental groups. This forum developed a "Nature Conservation Strategy for the Borough of Broxtowe 2009 - 2014" bringing together the aspirations of group members and offers a way forward to further enhance wildlife in the borough.
---
Broxtowe Wildlife Forum
There is a lot of interest in wildlife in the Borough and the Council brings together a wide range of nature conservation partners who together form the Broxtowe Wildlife Forum.
The aim of the forum is to raise awareness, share information, to deliver a coordinated approach to enhance the biodiversity in the area and encourage more collaborative working.
About 25 local groups and organisations are involved and meet every 6 months. These include representatives from groups such as Nottinghamshire Wildlife Trust and the BTCV (British Trust for Conservation Volunteers) as well as more specialised groups such as Friends of Bramcote Ridge, Friends of Colliers Wood, Friends of Smithurst Road, Friends of Toton Fields, Friends of Brinsley Headstocks and Broxtowe Barn Owl Project. Please see page 2 of the Nature Conservation Strategy for the current list of members.
The Forum will be central in helping to deliver biodiversity gain in Broxtowe and the council is pleased to support the forum in its work.
If you would like to find out more about the Forum  and the date of the next meeting contact us.
---
---