Coronation Celebrations
Information on events taking place as part of the Coronation of His Majesty, King Charles III on Saturday 6 May 2023.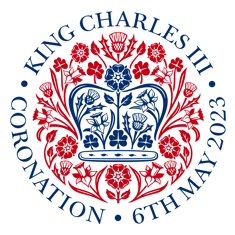 A bank holiday has been proclaimed in honour of the coronation of His Majesty King Charles III, which will fall on Monday 8 May.
The Coronation ceremony will take place on Saturday 6 May at Westminster Abbey.
The Coronation will see people across the UK and the Commonwealth come together to celebrate.
The Coronation programme will include the procession and service at Westminster Abbey on Saturday 6 May,  the 'Coronation Big Lunch' across the country on 7 May, with a concert taking place in Windsor in the evening, and 'The Big Help Out' community activity on the bank holiday, Monday 8 May.
National Lottery Funding
Funding is available of up to £10,000 for events and activities through the National Lottery Awards for All programme available for community groups to apply. This funding does not have a deadline, however it can take up to 12 weeks from the point of application submission to receiving funding, which means applications for the Coronation weekend should be made before the middle of February. Check the funding criteria and terms and conditions(Opens in a New Window) before applying.
The Coronation Big Lunch
The Coronation Big Lunch on 7 May will encourage communities to come together, celebrate their connections and get to know each other better.
It will bring the Coronation festivities into the heart of every community.
Order a Coronation Big Lunch pack(Opens in a New Window) and start planning.
The Big Help Out
The Big Help Out, on 8 May, will provide an opportunity to reflect on the legacy of His Majesty's service and showcase the impact of volunteering within communities.
Hundreds of activities are planned for the day by local community groups, organisations and charities including The Scouts, Royal Voluntary Service, National Trust and RNLI.
Run a charity or want to get involved? Find out more at the Big Help Out website(Opens in a New Window)


Events in Broxtowe
Look out for details soon. You can also share your own events on our online events calendar or contact press@broxtowe.gov.uk with details.
Street Parties
Guidance on street parties will be available shortly via Nottinghamshire County Council. 
Activities you can do at home
---
Civic Office
tel: 0115 917 3210
Corporate Communications
tel: 0115 917 3825
---