Christmas Hamper Appeal 2016 Shows The Season Of Goodwill
Christmas Hamper Appeal 2016 Shows The Season Of Goodwill
19/12/2016 - Broxtowe's Christmas Hamper Appeal 2016 received generous donations once again from the Council's contractors, Vinshire Plumbing & Heating and United Living who visited the Town Hall recently to present their cheques.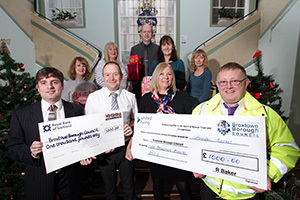 The money donated from employees and members together with cheques received from Beeston, Chilwell Road Methodist Church, NOVUS and Middle Street Resource Centre, will also ensure that those who need a helping hand this Christmas receive standard food items together with some festive treats including toys for the children.
Employees at Broxtowe Borough Council have already been donating food items over the past few weeks to be made into hampers for families within the Borough and elderly people on very low incomes who have been nominated by Council Offices and support agencies. B&M Bargains, Beeston kindly donated a food hamper to the appeal which is in its fourth year.
The appeal finished on 12th December so work can now commence preparing 49 hampers and 28 children's Santa sacks by a small team of Council volunteers for delivery before Christmas.
For more information, please contact Broxtowe Borough Council on the details provided below.
---
---