Christmas Tree Finds A New Home In Eastwood Town Centre
Christmas Tree Finds A New Home In Eastwood Town Centre
02/12/2016 - A Christmas tree from a property in Eastwood is providing some festive cheer in the town centre after Broxtowe Borough Council's quick thinking Arboriculture Team found it a new home after it was felled.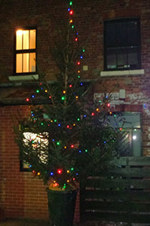 The tree, from the garden of one of Broxtowe Borough Council's tenants at Addison Villas in Eastwood was removed as it was becoming entangled in phone lines above the properties.
The Arboriculture Team decided that rather than recycle the tree for composting, they could donate it to be used as a Christmas Tree and the Craft Workshops in Eastwood was selected as the ideal location.
The tree was felled on Friday 25th November and was installed within the Courtyard at the Craft Workshops earlier this week, with Christmas lights added just in time for the Eastwood Christmas Lights Switch On event on Tuesday 29th November.
After the Christmas period the tree will be recycled into green waste for composting.
For more information, please contact Broxtowe Borough Council on the details provided.
---
---