Don't Throw Away Your Pets This Christmas
09/12/2016 - Broxtowe Borough Council is urging residents to think carefully before giving a pet as a Christmas present this year, following a large increase in the number of dogs being abandoned.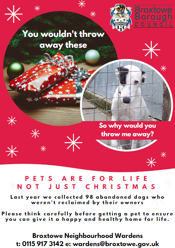 The average dog can live to 15 years and residents are being urged to think carefully before getting a pet to ensure they can provide it with a happy and healthy life.  Babbington Hall Rescue Kennels are seeing increasing numbers of abandoned dogs and are at full capacity.
Babbington Hall are holding a Christmas fun dog show on Saturday 10th December 2016 from 11.00am at the Kennels on Westby Lane, Awsworth to raise money to help them cope with the increased demand and continue to help abandoned animals.
For more information and to report incidents of stray dogs, dog fouling and dangerous dogs in Broxtowe Borough, please contact Broxtowe Borough Council on the details provided.
For information on adopting a dog please contact Babbington Rescue Kennels on 0115 9324576 or visit www.babbington-rescue.org.uk
---
Neighbourhood Wardens
tel: 0115 917 3142
---