Eastwood Man Prosecuted for Animal Welfare Offences
25/11/2016 - An Eastwood man was given an 12 month suspended prison sentence last week after pleading guilty to six animal welfare offences. He was also ordered to pay £500 in costs and a £115 government surcharge and has been banned from owning dogs for at least one year.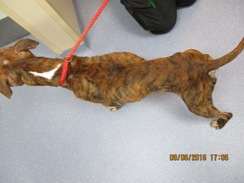 Jack Mellors, 23, of Manor Road, Eastwood pleaded guilty at Nottingham Magistrates' Court to three counts of causing unnecessary suffering to three Staffordshire Bull Terriers and three charges of failing to meet their needs.
He also was ordered to complete a rehabilitation activity requirement of 20 days of which he must attend with a supervising officer and if he fails to do so he will be brought back before the court and may have to serve the custodial sentence.
Mr Mellors locked the dogs in a cupboard and denied them food and water, causing them to fight amongst themselves to survive. Members of the public contacted Broxtowe Borough Council with their concerns and the Neighbourhood Wardens visited the property to hear the dogs fighting behind the door.
Mr Mellors refused to get Tyson to a vet for urgent veterinary treatment so the dog was seized under the Animal welfare Act 2007.
The Council worked with the police to get a warrant and on entry to the flat discovered a scene of abject squalor. One of the dogs Tyson, had a deep bleeding puncture wound on his head, was clearly emaciated and dehydrated. Two further female Staffordshire Bull Terriers, Sky and her daughter Brandy were also underweight, smelt of urine and had sore and soiled feet.
Tyson was described as being "severely underweight" and should have been 20kg. His weight was 14kg. Sky weighed 13.8kgs and should have been 18kgs while Brandy was 2kgs underweight at 14.5kgs.
All three dogs were denied there right to the 5 freedoms under the Animal Welfare Act 2007 which are:
A suitable environment

A suitable diet

The ability to exhibit normal behaviour patterns

Protection from pain, suffering, injury and disease

Consideration of the animal's needs to be housed with, or apart from, other animals.
All of the dogs were provided with veterinary care fed adequate amounts of food and water and have made a full recovery and are now well enough to be rehomed.
Mr Mellors is now disqualified from owning/keeping/participating in the keeping of  animals and from being party to an arrangement under which he is entitled to control or influence the way in which animals are kept. He will be able to make an application to court to terminate the Order after 12 months.
Chair of the Environment and Community Safety, Councillor Mia Kee said:
"This is a very sad case of neglect and this prosecution shows that this type of cruelty to animals will not be tolerated."

"The average dog can live to 15 years and can cost up to £16,000 throughout its life and the Council is urging residents to think carefully before getting a pet to ensure they can provide it with a happy and healthy life."
For more information and to report incidents of stray dogs, dog fouling and dangerous dogs in Broxtowe Borough, please contact Broxtowe Borough Council on the details provided.
---
Neighbourhood Wardens
tel: 0115 917 3142
---