Keys Handed Over At Second Dementia Friendly Scheme
30/11/2016 - The keys were officially handed over at Broxtowe Council's second dementia friendly housing scheme in Beeston last week, thanks to a partnership project between Broxtowe Borough Council, Nottingham Community Housing Association, Waters Homes and Pelham Architects to build specially designed and adapted bungalows for people with dementia.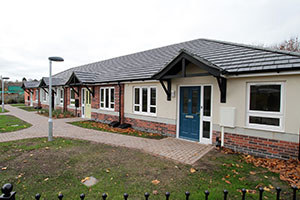 The newly built bungalows have been incorporated into the Council's Retirement Living Scheme at Bexhill Court on Central Avenue who gave overwhelming support for the idea and the development.
The homes have been designed to be dementia-friendly with special emphasis on colours, textures and patterns, as people with dementia can struggle with depth perception and patterns can cause confusion. Colour is also an important issue, to ensure that there is lots of light in the home but that things like doors, light fittings and toilet seats are dark enough to stand out and easy to distinguish. Each room in the dementia friendly bungalows will be a different pastel colour so they are easily identifiable to the resident, even if they are confused or disorientated.
Chair of the Housing Committee, Councillor Eric Kerry said These fantastic new bungalows show how Broxtowe Borough Council has worked hard to provide specialist accommodation for residents affected by dementia. The transformation from disused tennis courts to what we have seen today is a magnificent achievement by everyone involved in the project.
The development offers four x two bedroom bungalows, including a room for carers to help support the needs of individual tenants, together with an additional two x one bedroom bungalows for people who wish to move to Retirement Living.
The project is part of the Council's on-going commitment to be a dementia friendly Council.
For more information, please contact Broxtowe Borough Council on the details provided below or visit the Council's website.
---
---