Fun For All The Family With Novus
Fun For All The Family With Novus
18/08/2017 A Summer holiday fun day took place in Brinsley this week when residents were invited to practice their decorating skills and get involved in other fun activities.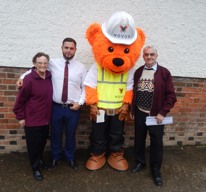 Novus Property Solutions and Housing teamed up to offer two sessions in the Borough this year; one at Central College in Chilwell and the second at Brinsley Parish Hall in August this week. A member of the Novus team was on hand at the Brinsley event to provide hints and tips on decorating, and also to give people the opportunity to have a go at painting the communal area walls. The session also had additional activities, such as indoor arts and crafts and outdoor football training.
Andrew Besford, Operations Manager at Novus Property Solutions said: 
"We would like to thank the residents and staff from Housing at Broxtowe Borough Council who attended our Family Fun Day at Brinsley Parish Hall; there was a great turn out and it was wonderful to see everyone enjoying all of the activities. Novus has a commitment to social value, and we pride ourselves on being a part of the communities in which we work."
Residents were thankful to be given the chance to attend these sessions, and were looking forward to trying out some of their news skills in their own properties. Novus Property Solutions work with Housing as one of their contractors to deliver effective maintenance solutions, and the team are keen to continue holding more community events.
For further information, please contact the details provided below.
---
---