Hundreds of short courses at libraries and community venues across Notts
Hundreds of short courses at libraries and community venues across Notts
30/08/2017 - Last week Inspire launched its first ever short course guide at the newly refurbished Beeston Library to bring hundreds of short courses to libraries and community venues across Nottinghamshire.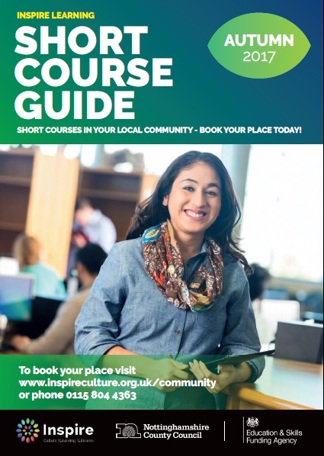 The new short course guide is available from local libraries, children's centres, some leisure centres and supermarkets, community centres and council offices. It can also be viewed online and downloaded at www.inspireculture.org.uk/learning
Launched on April 1 2016 INSPIRE delivers the following services in Nottinghamshire: public libraries, archives, arts, Instrumental Music Teaching in schools, Community Learning and Skills Service, Nottinghamshire Music Hub and the Education Library Service. Nottinghamshire County Council is the first in the East Midlands to set up an organisation to manage its libraries, archives, learning and cultural services across the county.
Inspire courses are for anyone aged 19+ who may not have done any learning since school, or who want to try something new without a huge commitment both in terms of time and cost. No previous experience, skills or qualifications are needed to enrol, and Inspire's community courses are free to those in receipt of certain benefits.
Introduction to Health and Social Care, Sewing, 3D Printing, Alternative Therapies, Confidence for Work, Mindfulness, Pilates, Crochet, Family Arts and Crafts and Story Fun are just some of the courses on offer.
Inspire family learning courses are designed to bring families together, to learn something whilst spending quality time together, and all family learning courses are free regardless of benefits received.
As well as family and community courses, Inspire offer study programmes for 16-18 year olds, apprenticeships, courses for employers and new for September, Access to Higher Education in Health and Social Care with a pathway to Nottingham Trent University for successful students.
Peter Gaw, Inspire Chief Executive said:
"Over the past year we have delivered courses in local communities to over 2000 learners. We now want to reach even more people who maybe haven't done any learning for some time and who might be put off learning something new through more traditional learning environments."

"At the heart of Inspire Learning is delivering courses that are flexible, informal, fun and sociable, and at a place and time that is convenient. Running short courses in local communities, including local libraries increases accessibility for people who might otherwise be put off to learn something new, helping them to build their skills and confidence, and if they want to, progress to more formal qualifications later on."

"Our new Autumn short course guide is free and packed full of exciting courses for people to take part in at their local library or community venue, we want people to feel inspired to try something new. People can also tell us about the courses that would be of interest to them so that we can look to include these too."
Councillor John Cottee, Chairman of Nottinghamshire County Council's Communities and Place Committee, said:
"These new short courses are a great idea and the ideal chance for people to learn about something new.

The newly-reopened Beeston Library is the perfect venue to launch them as the recent improvements will make for an even better environment for local people to read, learn and benefit from the many activities and events which take place here."
More information about all Inspire courses can be found in the new Autumn Short Course Guide available in local libraries or downloadable at www.inspireculture.org.uk/learning
Further information can be found at www.inspireculture.org.uk/learning
---
---