Starving Dog Dumped In Freezing Temperatures
Starving Dog Dumped In Freezing Temperatures
12/12/17 BROXTOWE BOROUGH COUNCIL is urging residents to think before they get a pet for Christmas, after a female Lurcher dog sadly died after being abandoned, tied up under a bush near to Babbington Hall Rescue Kennels in Awsworth in below freezing temperatures.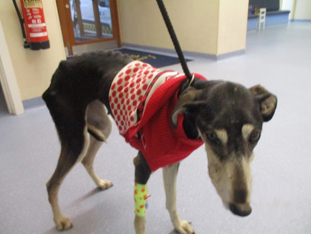 The Council's Neighbourhood Wardens are appealing for any information on the dog after a passer-by noticed her on Westby Lane at Awsworth on Monday 4th December.
The dog, Hope, was so emaciated that all her bones were showing and it was amazing that she had survived her ordeal in the freezing temperatures.
Hope was rushed to the emergency vets where they tried their best for two days to save her but unfortunately she lost her fight for life. She had been starved to death and her organs had shut down.
Anybody wanting a new dog is strongly advised to visit a local rescue centre like Babbington Rescue Kennels, who board stray animals for the Council and help them to find their forever homes. So far this year, the Council have found 85 abandoned dogs since April 2017, of which 15 have not been reclaimed.
The average dog can live to 15 years and residents are being urged to think carefully before getting a pet to ensure they can provide it with a happy and healthy life. The Council wishes to remind residents that pets are for life, not just for Christmas.
Owners should also note the importance of neutering and micro chipping their pets to prevent unwanted litters and increase the chances of being reunited should they go missing.
---
Neighbourhood Wardens
tel: 0115 917 3142
Babbington Rescue Kennels
tel: 0115 932 4576
---