Heroes Needed For Broxtowe Litter Picks
21/02/2017 Litter Pickers and bin bags will be at the ready in Stapleford and Eastwood next week thanks to two tidy events organised by Broxtowe Borough Council, as part of Keep Britain Tidy's The Big Tidy Up campaign
Local people are invited to come along and a be litter picking heroes, along with Mayor of the Borough of Broxtowe, Councillor Graham Harvey and Council Officers to tidy up litter hotspots in the towns and make sure the local area is clean and tidy and somewhere we can be proud of.
The events will take place on the following days: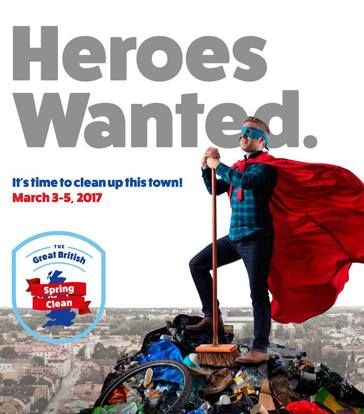 Friday 3rd March, Hickings Lane Recreation Ground, 10.30am – 12.30pm Target areas: Hickings Lane, Mill Road and the path to the Erewash Valley Trail between Mill Road and Moorbridge Lane
Saturday 4th March, Scargill Walk Craft Shop Car Park, 11.00am – 1.00pm Target areas: Princes Street and Hopkins Court
The Big Tidy Up aims to get everyone out and about, cleaning up their community through the year and understanding that small actions can be the start of big changes.
Figures released by the UK's biggest anti-litter campaign, Keep Britain Tidy, have revealed:
That Council taxpayers in the UK fork out £1billion a year to clean the streets.
Over 30m tonnes of litter are collected from our streets each year
Thanks to the growing presence of dropped food, the UK rat population now stands at approximately sixty million
People can be fined £80 for dropping litter. Last year 44,000 people were prosecuted.
---
---