Woodland Management Begins Year of Improvements for Hall Om Wong Park
Woodland Management Begins Year of Improvements for Hall Om Wong Park
28/02/2017 - Woodland management work will be completed at Hall Om Wong Park in Kimberley to help protect the natural environment and improve the area for both local people and wildlife in the years to come.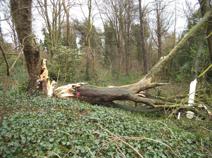 Works started last week, with two thirds of the work completed and following discussions with a local protest group where the Council explained the reasons for the remaining trees to be felled, works will be completed shortly.
The importance of the works was highlighted last week when a 25m high Horse Chesnut collapsed during storm Doris over a main footpath on the site. Fortunately no members of the public were in the area when it fell. The tree had been identified for felling as part of the woodland management works due to Ganoderma fungi.
 In addition to completing the woodland management works to fell the remaining 15 trees originally identified in a survey last year and supported by an independent tree specialist, improvement works over the next year will include:
Thickening of the hedgerow along Eastwood Road to protect pedestrians and traffic
Development of an under storey and field layer of woodland by planting a mix of plants in the western and centre woodland compartments
Local schoolchildren have recently planted bulbs at the park have made bird boxes which were installed on Lime trees on the south side of the park. The Council is looking to work with more young residents to source additional bird and bat boxes
Central path improvements, with funding secured from the 6C's New Growth Point Partnership.
The funding will also support pond improvement works to help retain water over a longer period and improve the habitat for wildlife.
The Council is submitting funding bids for work to improve access points, fencing and gates, paths throughout the woodland and the natural habitat.
Councillor Shane Easom, Chair of the Leisure and Environment Committee said:
"The Council stands by the expertise of its tree officers and independent advice that these works are essential to ensure the safety of the local community, as well as ensure the park and the natural environment is protected and able to flourish over years to come. We have already had a number of positive comments from residents whose properties back on to the park."

 "We would like to engage more closely with local people who use the site so we can work together to improve this important site and anyone who is interested in joining a Friends of Hall Om Wong group should email grounds@broxtowe.gov.uk."
 For more information, please contact Broxtowe Borough Council on the details provided.
---
---