Woodland Management To Take Place At Hall Om Wong Park
Woodland Management To Take Place At Hall Om Wong Park
10/02/2017 - Broxtowe Borough Council is making local residents aware of some important woodland management work which will take place at Hall Om Wong Park and Local Nature Reserve in the next few weeks.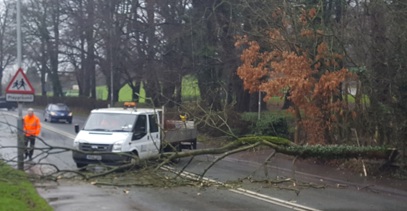 The Council carried out a survey last year amid concerns that without intervention, trees would develop in such a way that would provide very little opportunity for natural regeneration and shade plants on the woodland floor leading to a loss of biodiversity. There were also concerns of overhanging branches and unsafe trees.
Just last week, a large ash tree fell from the brewery wood blocking Eastwood Road in both directions. Luckily, no vehicles or pedestrians were involved but this incident highlights the importance of this work for both public safety and the future of natural environment.
 Councillor Shane Easom, Chair of the Leisure and Environment Committee said:
"We know that the local community is very passionate about wildlife and I would like to reassure them that this work is vital to ensure the ecological value and viability of the woodlands. The Council has taken a second opinion from independent tree specialists who agreed that the work was necessary."

"The work will be undertaken sensitively, so as not to damage the remaining trees or harm any wildlife and non-native trees and poorer specimens have been selected for removal rather than healthy trees."

The Council has met with local groups about the works which includes thinning some areas of the woodland by felling some of the trees where they are growing densely together to enable a wider programme of improvement works to benefit the habit and biodiversity."
 A few trunks will be left at chest height to provide "standing deadwood", which is important habitat for insects, woodpeckers and other birds and a proportion of the felled material will be left in the wood to decay. This habitat is an important feature for healthy and diverse woodland. Opening up views into the woodland will also limit opportunities for the use of the woodland for anti-social behaviour.
 Once this stage of work is complete a partnership with the Nottingham Greenwood team, local schools and youth groups will see woodland wildflowers such as bluebell and primrose introduced. Bird and bat boxes will also be fixed and understory shrubs such as hazel will be planted. At the end of the project in early summer a community wildlife event is planned on the site, which amongst other things will see a carved log bench installed.
---
---