Broxtowe Community Gathers For Holocaust Memorial Event
27/01/2017 - The Broxtowe Community stood together at a short ceremony this morning to mark the 17th annual Holocaust Memorial event in the Walled Garden at Bramcote Hills Park.

Mayor of the Borough of Broxtowe, Councillor Graham Harvey was joined by 14 year old Oliver Leask and Nathan Taylor, pupils from Alderman White School and members of Bramcote Youth Voice, in delivering readings to reflect the theme of this year's event, 'How Can Life Go On?'.
 Knitted memories were also placed around the Holocaust Memorial in the park as well as on one of the benches, knitted by local crafter Hannah Birch and her son Barney Birch from Fernwood School who will be writing about the event for his school newsletter. They took Hannah a month to complete.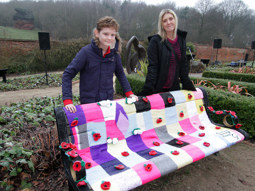 "There have been many tragic incidents across the world in the past year and the theme of 'How Can Life Go On?' is an important message for us to remember the past and think about how they can work together to create a future filled with peace, harmony and unity. "
said Councillor Harvey.
Each year for the past 17 years Broxtowe Borough Council has held a ceremony at Bramcote Hills Park on 27th January to mark Holocaust Memorial Day.
For more information about the Holocaust Memorial Day event, please contact Broxtowe Borough Council on the details provided.
---
---