Beeston Library prepares to reopen following extensive refurbishment
Beeston Library prepares to reopen following extensive refurbishment
24/07/2017 The library due to reopen to the public on 5 August at 9am, is ready to be officially handed over to Inspire by the Arc Partnership who designed and delivered the development.
All building and internal works are complete, furniture installed, bookshelves in place and fully stocked including 10,000 new items. The impressive grand new entrance on Foster Avenue is ready to inspire and welcome library visitors. Other improvements include;
New roof, windows, ceiling, lights, flooring and heating system.
New shelving and a re-design of public spaces for modern library use.
Discovery room – a space for hands on learning, creativity and innovation
Improvements to the meeting areas and exhibition spaces.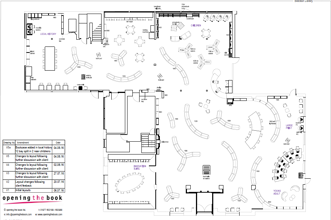 Members of the press are invited to attend a press review and official handover of the building by Arc's Managing director Daniel Maher to Peter Gaw Inspire's Chief Executive.
The refurbishment will see the venue become one of four flagship libraries in Nottinghamshire with Beeston library benefiting from an extensive arts and cultural programme including exhibitions, learning activities, workshops, performance, community and family events. The programme for August to October 2017 includes an official reopening family fun day on 9 September and on 7 October, the library will become a Fun Palace.
The library also benefits from a significant injection of new book stock including adults, children's, fiction and non-fiction. Full details will soon be released of the programme of activities to celebrate the re-opening including family theatre, art exhibitions, family art workshops, the annual Summer Reading Challenge for children and the return of regular events such as Rattle, Rhyme and Roll for the under 5s.
Inspire's Chief Executive Officer, Peter Gaw, commented:
"At Inspire, we're excited about re-opening of the Library as an inventive, modern space for the people of Beeston and indeed Nottinghamshire - for reading, learning, culture and community activity."
Councillor John Cottee, the new Chairman of Nottinghamshire County Council's Communities & Place Committee, welcomed the re-opening of the library. He said,
"It's great news to see this library re-opening its doors as it's a vital hub for the local community. "I hope the various improvements and the library's revamp will make for an even better environment for local people to read, learn and benefit from the many activities and events which take part here."
Daniel Maher, managing director of Arc Partnership said:
 "We welcomed the opportunity to continue our work with Nottinghamshire County Council and Inspire to design and build excellent library facilities across Nottinghamshire. The Beeston library will make a big difference to local people and we're glad our client and end users are pleased with the result. We'd also like to offer thanks to the local community and in particular Roun Hill School, who have been supportive and patient during the construction of the library"
The temporary library at Beeston Youth and Community Centre, West End will close on 29 July. This is to release staff for training ready for the opening of the new Beeston library. 
The library opening hours will initially be Monday: 9am to 7.30pm, Tuesday: 9am to 7pm, Wednesday: 9am to 7.30pm, Thursday: 9am to 1pm, Friday: 9am to 7pm, Saturday: 9pm to 4pm, Sunday. In September, a consultation will take place with library users and Beeston residents to establish if different opening hours would be welcome.
Visit the Inspire Culture website (Opens in a New Window) for more information.  Press release published by Inspire. 
---
---