Free WI-FI Launches In Stapleford Town Centre
Free WI-FI Launches In Stapleford Town Centre
7/7/2017 - Free WI-FI is now available in Stapleford Town Centre thanks to £25,000 investment from Broxtowe Borough Council and government grants.
Mayor of the Borough of Broxtowe, Councillor Halimah Khaled MBE joined local business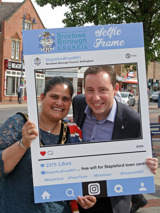 owners and Councillors yesterday (Thursday 6th July) to try it out.
Visitors can make use of the free Wi-Fi whilst shopping in the town centre. Details of how to access the Wi-Fi will be displayed through the town.
Councillor Tony Harper, Chair of the Council's Jobs and Economy Committee which approved the plans in January said:
"The Council has been working closely with the Stapleford Town Team over the last year to develop an action plan to revitalise Stapleford and draw in and retain visitors and following a meeting with high street guru Bill Grimsey, free town centre Wi-Fi was identified as a great way to attract more shoppers into the town."
The Town Team is made up of many different businesses and community groups from Stapleford, Chaired by Amy Davis owner of Tailored To You.
For more information, please contact Broxtowe Borough Council on the details provided below.
---
---