LEGO Card Swop-Shop
17/07/2017 Everything is awesome at the D.H. Lawrence Birthplace Museum as we prepare to host our first LEGO swop-shop!
The Lego card swop-shop will open in the D.H. Lawrence Birthplace Museum Gift Shop on Saturday 22nd July from 11.00am – 12.00pm. This will be a FREE drop-in event, so come along and see what else you can find.  Every Saturday during the summer between 11.00am – 12.00pm it will be possible to bring children to do our Lego card trail at the museum for FREE and to have a go with our Victorian garden games (subject to availability on busier days).
Lego cards are the new craze sweeping the playgrounds, and if you haven't yet finished your collection we may be able to help. Whether you're searching for the explorer card, or fishing for a Mermaid we have gotten our hands on a huge stash of Lego cards we are ready to trade.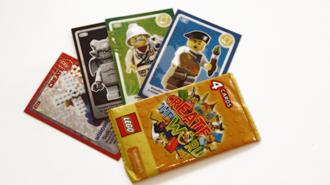 We have lots to keep children busy and as well as all things Lego we have FREE drop-in crafts in the museum shop over summer for all to enjoy.  Our crafts this season are Rainbow themed; make your own Rainbow garland to take home.
The D.H. Lawrence Birthplace Museum is an award winning visitor attraction in Eastwood, Nottinghamshire (not far from junction 26 of the M1 and the IKEA retail park).  It combines D.H. Lawrence's authentically recreated childhood home, with an exhibition space celebrating the author's life, work and humble beginnings. From here you can also explore the surrounding countryside, which inspired his work.
The D.H. Lawrence Birthplace Museum is open Tuesday to Saturday, 10am to 4pm. For more information, please contact the D.H. Lawrence Birthplace Museum on the details provided or visit the D.H. Lawrence Birthplace Museum Website (Opens in a New Window).  Facilities include a charming gift shop, tea and coffee, and a picnic area.
---
LLeisure
tel: 0115 9173915
D.H Lawrence Birthplace Museum
tel: 0115 917 3824
---