Tour of Britain and Nottinghamshire race organisers gear up to welcome world's top cyclists
Tour of Britain and Nottinghamshire race organisers gear up to welcome world's top cyclists
21/06/2017 The countdown is on to the biggest free-to-attend sporting event ever to come to Nottinghamshire. It's just 75 days to go to the start of the Tour of Britain race which will bring some of the world's top cyclists to the County.
National and local organisers, local school children and one of the race competitors gathered at the grounds of Southwell Minster today (Tuesday) to help encourage local people and schools to get involved and make sure they turn out in force on Wednesday 6 September – when all eyes will be on Nottinghamshire.
175-kilometers of the County's roads - starting in Mansfield and finishing in Newark on the same day - will be covered by stage four of the race which has a world-wide TV audience of millions. Around 1.6 million spectators are expected over the eight days.
Councillor Kevin Rostance, Vice Chairman of communities and place committee for Nottinghamshire County Council, speaking from Southwell Minster, said:
"Not only will be the first time the County will have hosted an entire stage this prestigious race, it's the only place in the Midlands to host it this year, so it's quite a coup.

"The route will pass some of the County's top tourist attractions including Sherwood Forest, Clumber Park, Newstead Abbey and Rufford Abbey and pass close by to Southwell Minster"

"We hope this race will inspire more Nottinghamshire residents, young and old to get out and about on their bike, whether that be getting to work or school, helping them keep fit, or simply getting out to enjoy the great Nottinghamshire outdoors."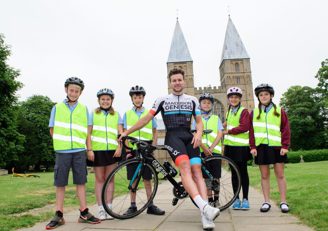 Year 6 pupils from Lowe's Wong Junior school in Southwell helped prepare for the big day by brushing up on their own bike safety skills within the Minster's grounds – under the supervision of instructors from Nottinghamshire County Council's bikeability scheme run by Via - as well as getting top tips from Tour of Britain racer, Matt Cronshaw. Marco Bradley age 11, from the school said: "I'm really excited about the Tour of Britain coming to Nottinghamshire.  It will be an amazing chance to see some great cyclists!"
Matt, a former Tour series champion, who is planning on competing in this year's race said:
"It's great to see young people getting involved in cycling at an early age – I was just the same as I learned to ride a bike when I was three.

"I'm looking forward to racing through Nottinghamshire – not only it is the home of the world-famous Raleigh, we'll also be passing through some fantastic sites such as Sherwood Forest and of course coming through Southwell itself.

"I hope local people get involved between now and the 6 September.  I know from previous Tour of Britain races that having a big turn out is a massive boost. It really spurs the riders on."
Brendan Moffett, Chief Executive of Marketing NG, said:
"Bringing such a high-profile event to Nottinghamshire will have a huge economic impact on the local visitor economy."
---
Corporate Communications
tel: 0115 917 3825
Nottinghamshire County Council
tel: 0300 500 8080
---