Training Award For Broxtowe Borough Council & United Living
01/03/2017 An Initiative to offer 100 training opportunities to students in Broxtowe Borough has been awarded the Training Award at The Building Communities Awards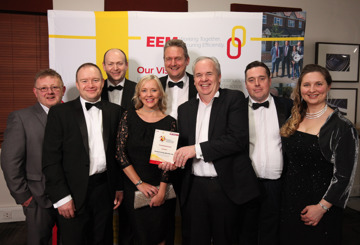 The award was presented to United Living on Friday 24th February at the event organised by Efficiency East Midlands Ltd (EEM) for their partnership with Broxtowe Borough Council and Central College Nottingham to offer 100 work placements during the academic year to construction students at the college.
 Around three construction students a week from the college were offered practical experience and an opportunity to gain valuable skills in a range of trades including plumbing, joinery, painting, plastering and electrical work.
 The students' efforts will support local communities in residential areas that are administered by Broxtowe Council's Housing Modernisations Contract - a seven year agreement to upgrade managed homes across West Nottinghamshire. They will be working mostly on projects which involve the replacement of kitchens and bathrooms, as well as upgrades to electrical installations.
 A bespoke training plan was devised and tailored to the student's individual trade and qualification level.
 Chair of the Housing Committee, Councillor Eric Kerry said:
"The Council is incredibly proud of this initiative. It will equip young people with the valuable skills they need to enter the world of work, and especially opportunities in the growing construction sector. This award is recognition of its success for not only the Council and the partners it has worked with, but also for the students themselves."
Richard Baker, Business Unit Director (midlands) at United Living, said:
"Investing in future skills is a major priority for United Living so we're delighted to be working with Central College Nottingham and Broxtowe Borough Council on this scheme. Not only will this practical experience help to prepare our students for the world of work, it also has the benefit of connecting them with our local communities to provide a real sense of purpose."
Kirsty Walsh, Curriculum Manager for Career Pathways, Plumbing and Electrical at Central College Nottingham, said:
"We're delighted that the project has been recognised with an award. Working with partners such as Broxtowe Borough Council and United Living helps us to offer quality work placements for our students, to better equip them for the working world. It allows them to give back to the community at the same time and to explore potential career paths."
For more information please contact the details provided below. 
---
---