Lawrence Festival Celebrates The Culture Of Nottinghamshire And Beyond
8/8/18 A family fun fair, talks, workshops, live music, poetry, exhibitions and more will all be on offer at this year's D.H Lawrence Festival of Culture when it returns next month.
Between Friday 24th August and Saturday 15th September a host of events will be taking place across Broxtowe Borough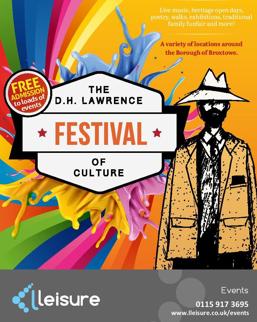 to celebrate the arts and culture from across the Borough and beyond.
The events programme includes:
H Lawrence Nordic Walk Taster Session - free
Thursday 30th August, 1.30pm to 2.30pm starting at the D.H Lawrence Birthplace Museum and exploring the sights which inspired Lawrence's work on this beginners Nordic walk. Includes a free tour of the Birthplace Museum. Spaces are limited so please book to avoid disappointment by contacting Bramcote Leisure Centre on 0115 917 3000. Poles will be provided for attendees on a first come, first service basis.
A Service of Songs of Praise – free
New for 2018, a songs of praise style service will take place on Sunday 2nd September at 6.00pm at Eastwood Baptist Church. The service will mark the 'Beginning of Festival Flourish' and will celebrate well-loved congregational hymn singing, as well as hearing from members of the local community about their lives and contribution to the community. The service will also include a hymn loved by D.H Lawrence himself. Contact alan_j.wilson@btinternet.com for more information.
Ballots, Blacklegs and Bedlam: The 1984-85 Miners Strike In Nottingham – A Reappraisal – small charge
Local coalmining historian, David Amos will deliver this talk to the Kimberley (Chinemarelian) History Society on Thursday 6th September at 7.30pm at Kimberley School Community Room. Visitors are welcome with a small charge on the door. Contact the Secretary, Steve Arundel on 01773 785 130 or email s.arundel@sky.com
The D.H Lawrence Society Birthday Lecture – £2 admission
The annual D.H Lawrence Birthday Lecture will take place on Saturday 8th September at 7.00pm at Eastwood Hall. It will be given this year by Christopher Miles, who directed the 1982 film Priest of Love. In his lecture, Christopher will be speaking on "Those Paintings" – the paintings of D.H Lawrence. Contact alan_j.wilson@btinternet.com for more information.
D.H Lawrence Music Festival – free
Back by popular demand is the D.H Lawrence Music Festival at 2.00pm to 11.00pm on Saturday 8th September, with live music all day across pubs and bars in Eastwood. Last year's event saw over 150 performances. Find out more at on the Roots Live Music website (Opens in a New Window) or contact 07894534976.
Adults Arts Workshop – free
Professional artists Haley Meaden and Nadim Chaudry will help you create art through experimental approaches on Friday 7th September from 10.00am until 3.30pm. Half the group will spend the morning at Beeston Library and half the group will spend the morning at Lakeside Arts and over lunch the two groups will swap over using the tram that joins these two spaces together. More information is available from Beeston Library on 0115 9255168 or visit the Inspire Culture Website. (Opens in a New Window). Booking is essential.
There are just a small number of events happening over the weekend. For the full schedule please visit the LLeisure Events Calendar. (Opens in a New Window)
---
---