Visit D.H. Lawrence Birthplace Museum For Free
16/8/18 EASTWOOD'S D.H Lawrence Birthplace Museum will once again be opening its doors for free, on Saturday 8th September, as part of the National Heritage Open Days and the D.H Lawrence Festival of Culture.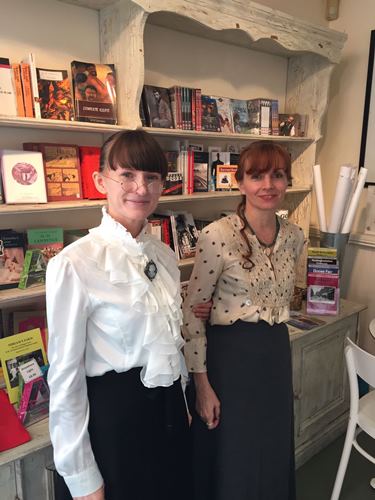 Visitors to the Museum on Victoria Street can enjoy free taster tours led by costumed guides, see an interactive demonstration of the Victorian Wash-house, try a traditional Victorian treat or have a go at one of the activities in the Museum Gift Shop.
It is suitable for all ages and a great opportunity to come and see the authentically restored miner's house where this controversial Eastwood writer was born. Also on display in each room are textile artworks depicting key figures from D.H. Lawrence's life.
The event takes place from 11.00am till 4.00pm (last admission at 3.30pm) at the D.H. Lawrence Birthplace Museum, 8a Victoria Street, Eastwood, Nottinghamshire, NG16 3AW. 
There is no need to book, taster tours will run every 10 minutes, and parking is available nearby (car parking charges apply).
Heritage Open Days is England's largest festival of history and culture, bringing together over 2,500 organisations, 5,000 events and 40,000 volunteers. Every year in September, places across the country throw open their doors to celebrate their heritage, community and history. It's your chance to see hidden places and try out new experiences – and it's all FREE.
A family fun fair, talks, workshops, live music, poetry, exhibitions and more will all be on offer at this year's D.H Lawrence Festival of Culture when it returns between Friday 24th August and Saturday 15th September for a host of events taking place across Broxtowe Borough to celebrate the arts and culture from across the Borough and beyond.
Heritage Open Days 2018 will take place on 6th-9th and 13th-16th September with many other local attractions open for free. Find out more at the Heritage Open Days Website. (Opens in a New Window)
The D.H. Lawrence Birthplace Museum is open from Tuesday to Saturday in Eastwood, Nottinghamshire. Visitors are transported back in time to view the authentically restored Victorian miner's house, home of the world renowned author.
---
---