£28,000 Play Area Improvements At Mansfield Road Recreation Ground
13/12/18 - CHILDREN IN EASTWOOD have received an early Christmas present thanks to £28,000 worth of play area improvements at Mansfield Road Recreation Ground as part of Broxtowe Borough Council's Pride in Parks Scheme.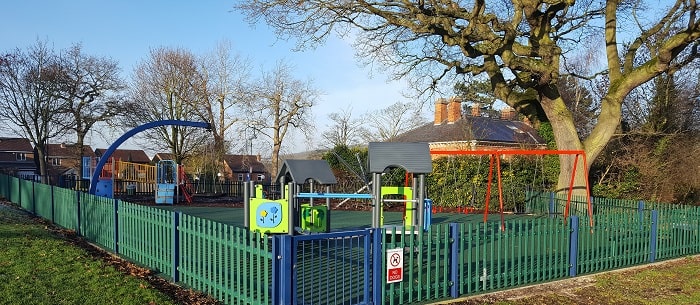 The improvements include a new junior multi-play unit, a big basket swing and a new play unit designed specifically for younger children.
Half of the old bark surface has also been removed and replaced with rubber surfacing, making the play area more accessible and allowing little ones to play all year round on a cleaner surface.
The improvements are the latest in a series of play area upgrades which have been completed as part of the Council's "Pride in Parks" initiative to invest £500,000 in parks and open spaces over the next two years.
Chair of Broxtowe's Leisure and Environment Committee, Councillor Shane Easom said: "The new play area at Mansfield Road Recreation Ground is a great way to round off the year and I hope that local children get plenty of chance to test it out over the Christmas holidays. It's fantastic to see the funding from the Pride In Parks scheme benefitting local residents across the Borough so they can have fun and improve their physical and mental health outside in the great outdoors. Over £300,000 has been invested so far, with the next scheme now in progress at Millfield Road Open Space, Kimberley."
---
---