Soldier Silhouette Leaves A Lasting Legacy In Greasley
19/12/18 - A silhouette of soldier has been installed in Greasley, to leave a lasting reminder of the sacrifices the people of Greasley made in the First World War.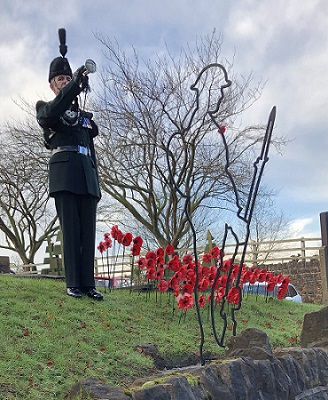 Thanks to funding from Broxtowe Borough Council, the Parish Council has been able to install the statue outside St Mary's Church.
The silhouette was officially unveiled at a short ceremony attending by the Mayor of the Borough of Broxtowe, Councillor Derek Burnett BEM and members of the church and the Royal British Legion.
The silhouette, or Tommy, is part of the There But Not There campaign, organised by armed forces charity, Remembered.
Remembered have three aims:
To commemorate the fallen and the 2018 Armistice project There but no there is the Centenary commemoration for the 100 from the end of WW1.
To educate all generations to understand the slaughter of 888246 British and Commonwealth men
To heal those suffering from PTSD and other lasting legacies of combat by raising funds for their beneficiary charities.
For more information, contact Greasley Parish Council on 01773 688 848.
---
---